With the run displayed, click the Place Conduit Part button

. The Conduit Placement dialog box displays.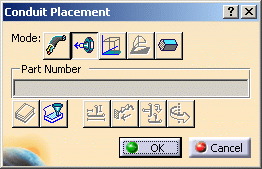 Select the mode by clicking one of the buttons.

Place on Object to place a part on a run.

Place on Connector to place a part on a connector.

Place on Active Axis Plane. This will place the part on the same plane as the axis that is active. You could use this with a local axis, for instance.

Place on Compass Plane. This mode allows you to place a part on the compass plane. It becomes active when you move the compass and place it on a surface.
Place on Surface lets you place a part on a surface, such as a ship's deck. You will first need to position the white reference square that appears when you click this button.

Open Catalog Browser lets you open the browser and select a part to place.

The Filter Definition button lets you override values and specification, explained in Steps 3 & 4 below.
The last four buttons, Edit Part Parameters, Move, Flip & Adjust, let you perform tasks already explained in this manual. They become active when they can be used.