DETAILS
First off, let me just say that Ross's residence is a very large, seaworthy boat. You can catch a glimpse of the boat at Ross's own page (I forgot to take a picture of the whole boat). Upon arriving at the marina where the boat is docked, I had a feeling that the experience would be unique. ...and indeed it was. Ross greeted me at the gate to the marina, and we took a short stroll towards the "back" part of the marina to get to the boat. Along the way, Ross briefly showed me the bus (yes, a real big bus!) in which he stored a large quantity of PS/2 equipment including several Model 95s and an RS/6000 machine.
Once boarded, it occurred to me that the boat was very large, and was probably very similar to living in a small condo. You'd just have to get used to the occasional swaying from the waves, is all. Here's a shot of Ross getting ready to lead me down the stairs to the computer area.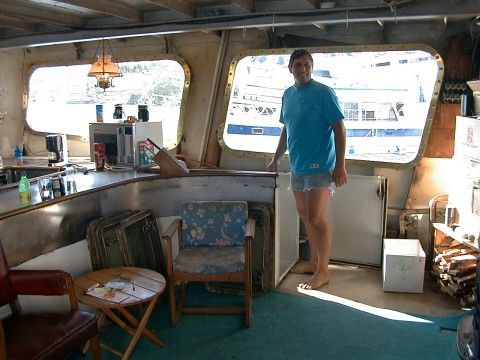 Once below, you immediately see what I like to call the "power-center" comprised of a *modified* 9595 sytem, two 3511 SCSI towers, and a bank of large IBM monitors. For those who aren't familiar with Ross's system, it's a 9595 case that has been totally gutted of the original innards. The only PS/2 about it is what you see on the outside. On the inside of the case lurks an Asus motherboard with two Pentium II 400MHz processors, 256 megs of RAM, and (I think) three video cards to drive the three monitors simultaneously at a resolution of 3840x1024! The picture below shows Ross sitting by the whole setup.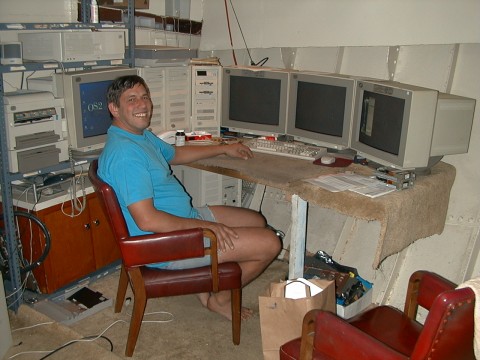 Here's a shot focussed on the 9595 case sitting next to the two 3511 towers that it's connected to. Note that although this system is in the "basement" of the boat, it's actually connected to the internet full-time via an ADSL line. Ok, how many _homes_ out there have anything faster than a modem?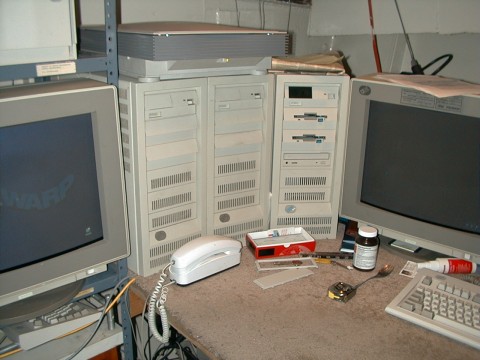 With ADSL and three large monitors, I had the (probably once-in-a-lifetime) opportunity to surf the MADMax site at an extreme resolution!!! The picture below shows Internet Explorer Max-imized (sorry for the pun) across the three large monitors.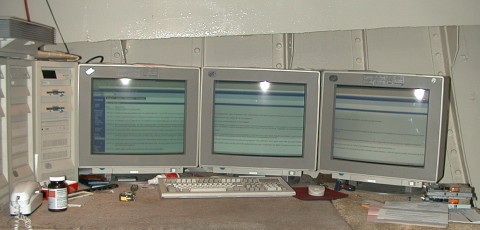 Closer examination of the "Display Properties" shows the high resolution and refresh being run on this system.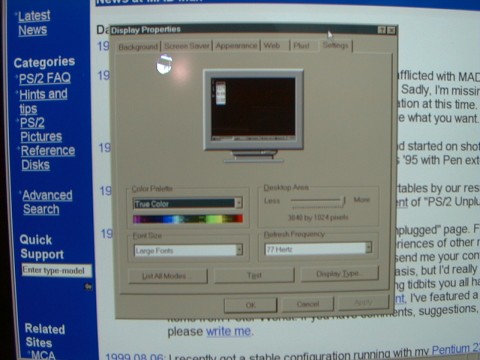 One neat thing I noticed about the system was that it had a "stock" look. This was mostly due to Ross's attention to details. Note in this picture how he has adapted two *standard* 1.44MB floppy drives for use in the 9595 case. If you're not familiar, the PS/2 floppy drives do not work with non-PS/2 floppy controllers due to the proprietary cable.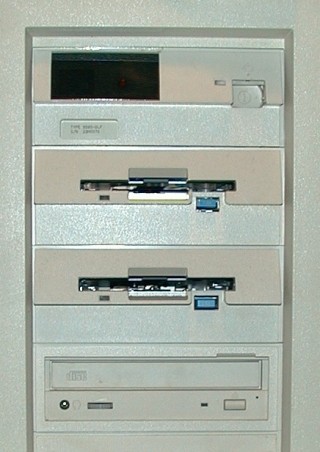 Well, after thoroughly admiring the "power-center" it was time to get down to some business. As Ross will be leaving the country shortly, he is clearing himself of all his current computer equipment. Since I was travelling myself, I couldn't really acquire anything large, such as the monitors. Because of that fact, I was limited to PS/2 cards and small items. Here's Ross going through one of several boxes of PS/2 cards to sort out items that I might be interested in. It was both a a happy and sad affair. As he handed me cards, I would examine them to see if they're worth taking. On cards that I handed back to Ross... they were laid to rest in a trash bag. :-(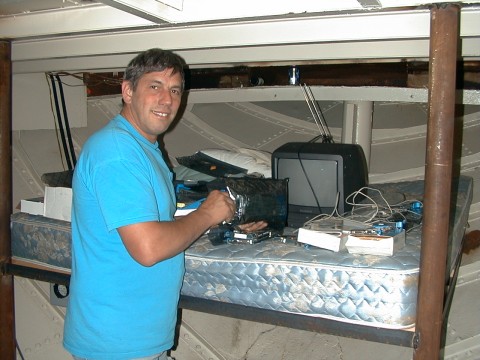 After an extended chat session and an overall very enlightening visit, it was time to go. I wished Ross much luck in his future endeavors, and told him to stop by my place in California for a visit should he be in the area. The last email I received from Ross indicates that dismantlement of the "power-center" has already begun. It's currently just the single 9595 case and one monitor...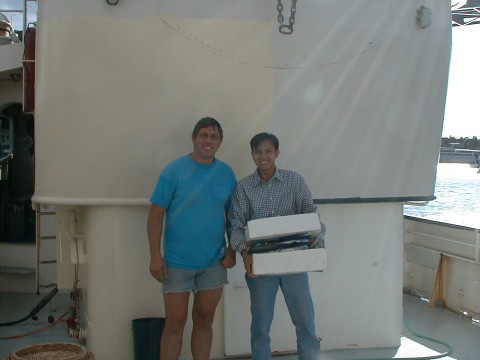 The End.