About Defining Laws Using a 2D Curve
In DMU Kinematics Simulator, when the user wants to pilot the remaining degrees of freedom of a mechanism, it is possible to define laws on the kinematics commands. This can be done by creating a knowledge formula or a rule (if the law is defined by intervals).

This new capability allows the user to define laws using a 2D curve and editing them graphically

How to access this capability?

Using Law Management option buttons in the Command Edition dialog box: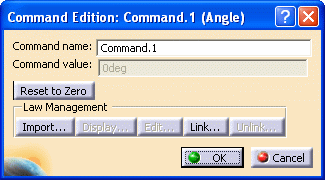 Through the Command Edition dialog box, the user can perform various operations:
Option Buttons Description
Import: Imports the coordinates of points describing a kinematics law. These coordinates must be contained in a specific formatted text file.
Display: Visualizes a graphic representation of the currently edited command. It is a simple and read-only browser and it does not allow editing the curve. The Laws Display window is similar to the one existing in Mechanism Analysis except there is only a representation of the edited command (In Mechanism Analysis function, all the commands are represented within the same graph).
Edit: Edits the sketch associated to the current law. The system automatically switches to the sketcher editor, where the user can perform all the necessary changes on the sketch. (Specific licensing)

Once the edition is finished, the user clicks on the Exit workbench button to switch back to DMU Kinematics workbench.
The changes that have been made on the sketch are automatically taken into account by the kinematics law. No update is necessary. If the modification of the sketch leads to an invalid law description (i.e. the sketch does not represent a function), an error message is displayed and the modifications on the sketch are undone.
Link: Links a command to an already existing sketch.

This can be useful for designers who create laws directly with the sketcher without using the Import function. When clicking on the Link button, the user needs to select an existing sketch contained in the current document (i.e. in a CATPart inserted under the root product which contains the kinematics data, not in another document).
Unlink: Breaks the link between a command and its associated sketch.

It can be useful if the user wants to remove the associated law to a command.
License Requirements
Important: The Edit functionality is available provided that you have at least one of the following licenses: GS1, PD1, GSD or PDG license.
Importing Kinematics laws from a text file (Step-by-Step Scenario)