This task shows how to prepare a dismounting operation by defining a shuttle made of shuttles. You decide to dismount the whole clutch system included in the engine group. Three shuttles are defined in our sample:

Drum-Shuttle
Hub-Shuttle
Shoe-Shuttle
View of the shuttles in the specification tree: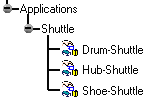 In the geometry: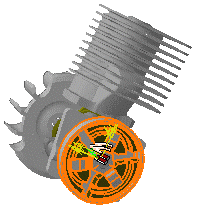 In the procedure that follows, you integrate the Hub-shuttle and Shoe-Shuttle into the Drum-Shuttle.

As you replay the simulation, the three shuttles are single entities, but if you need to move the whole clutch system, you will only move the Drum-Shuttle.