EPRM © IBM Corp. 1992-97: The IBM LANStreamer MC 16 adapter allows you to attach IBM PS/2 computers equipped with MicroChannel architecture to the IBM Token-Ring Network. It transmits and receives data at a rate of either 4 or 16 Mbps over shielded-twisted-pair or unshielded-twisted-pair cable.
Cabling Requirements
One of the following cables (not furnished with the adapter):
An IBM Token-Ring Network PC Adapter Cable (MKT P/N 6339098) or equivalent, if the LAN segment uses IBM Cabling System data grade media (shielded-twisted-pair).
A Category 3, 4, or 5 cable with RJ-45 connectors, if the LAN segment uses telephone twistet-pair media (a wrap plug, IBM MKT P/N 72X8011, is also required).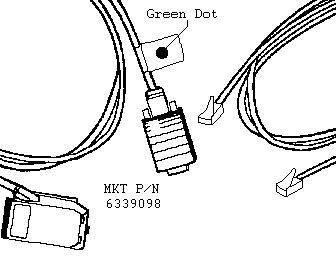 IBM Token-Ring Network PC Adapter Cable, P/N 6339098