LIMITS: This function trims the excess plate.
To do this, select under Limits, and select the objects you want to use to limit the bulkhead. (In this example, shell, upper and lower deck, and a longitudinal bulkhead.)
The plate is trimmed, and the Object field displays the objects you selected.
The image below shows the trimmed bulkhead.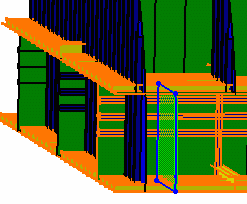 Under Offset, you can define the offset value of each plate limit. A positive value adds material. A negative value removes material. Additionally, limit tags display in your 3-D session to assist with plate limit management.
The Remove button allows you to delete a limit.
The Switch Side button lets you toggle between limited sides. You can also switch sides by selecting the same limit again.