Upon successful completion of the computation, the status of all objects in the analysis specification tree up to the Static Case Solution.1 objects set is changed to valid. In other words, the

symbol appears no more.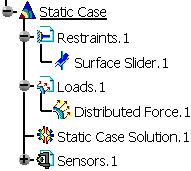 The color change of the Restraints and Loads symbols to blue, also reflecting the fact that the Static Case Solution computation was successful.