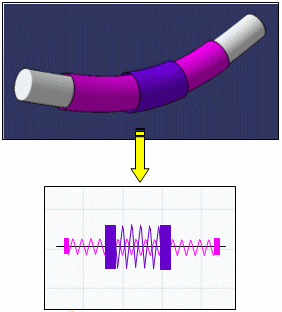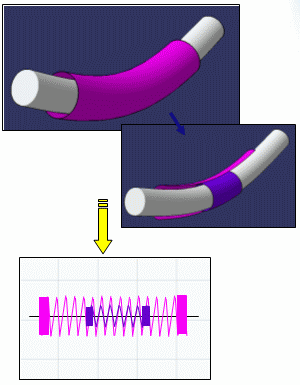 You can create your own line type standard for protective coverings that gives a different aspect to these components in your drawing and lets you better visualize the various overlapping coverings. This functionality is only available when generating drawings using generative view style parameters.
For each basic line type, you must define more than one bi-dimensional line type, increasing its size as you go in order to obtain one linetype per layer of protective covering.
When generating your drawing, the system maps the appropriate line type to each layer of protective covering using a simple formula.
The above illustrations also show 2D details applied to the ends of protective coverings that likewise vary in size according to the covering layer. For more information, see Integrating Generative View Styles.
Also refer to Using Different Line Types and 2D Details for Overlapping Protective Coverings.