The information in this section will help you select the orientation of faces and re-orient the ones that need to be so that you can then use the model n the main pulling direction action.

More Operating Mode information is available in the Face Orientation Basic Task.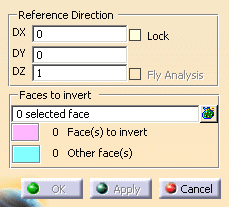 Reference Direction
Defines the direction that is used to define whether a face is correctly oriented or not.
Locks the Reference Direction so that you can perform a Fly Analysis.
Displays the normal to each face you move the cursor over.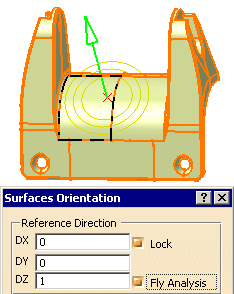 Gives information on the number of:
faces in the model,
faces that need to be reoriented,
faces that do not need to be reoriented.
See below for information on how to change the colors of the slabs.
Click

to display a list of all of the faces in the model, sorted according to their orientation and where you can modify the selection of faces to invert.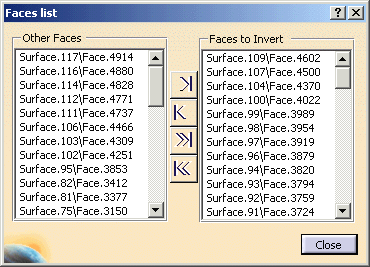 The color slabs give the color that the corresponding faces are displayed in and allow you to differentiate the faces on screen.
You can change the colors by double clicking on the slabs and then selecting the colors you want to use.