---
[ Previous | Next | Table of Contents | Index | Library Home | Legal | Search ]
Performance Management Guide
---
As shown in the following illustration, the PDT application consists of three components:
The collection component comprises a set of programs that periodically collect and record data.
The retention component periodically reviews the collected data and discards data that is obsolete.
The reporting component periodically produces a diagnostic report from the current set of historical data.
Figure 13-1. PDT Component Structure. This illustration is similar to an organizational chart with the three PDT application components at the top. They are; collection control, retention control and reporting control. A data path is drawn from collection control to collectors and then on to PDT History. A data path is drawn from retention control directly to PDT History. Data travels from Reporting control to the reporter and a periodic report is sent by file or mail. Data in PDT History can be discarded when it is obsolete or passed on to the reporter where periodic reports are sent by file or mail. All data is originated by the cron.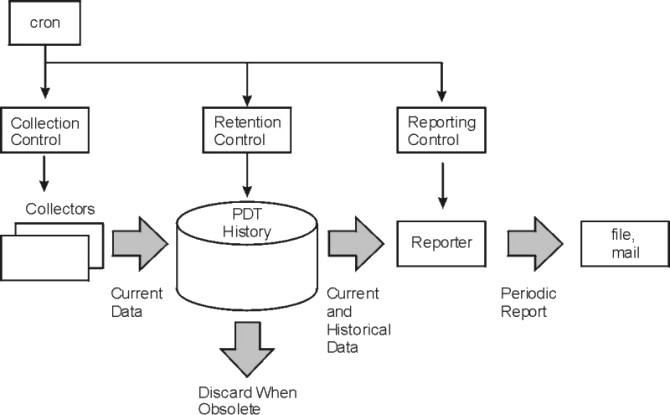 PDT considers various aspects of a system's configuration, availability, and delivered performance in making its assessment. In particular, areas of configuration imbalance are sought out (such as I/O-configuration balance, paging-configuration balance) as well as other configuration problems (for example, disks not allocated to volume groups). A wide variety of trending assessments is made, including file sizes, file-system sizes, paging-area usage, network delays, and workload-related delays.
---
[ Previous | Next | Table of Contents | Index | Library Home | Legal | Search ]