[ Previous | Next | Contents | Glossary | Home | Search ]
---
AIX Version 4.3 Problem Solving Guide and Reference
---
Library Contents
This book addresses various system problems but is not a substitute for troubleshooting procedures included in other reference books. Other problem solving references include the following: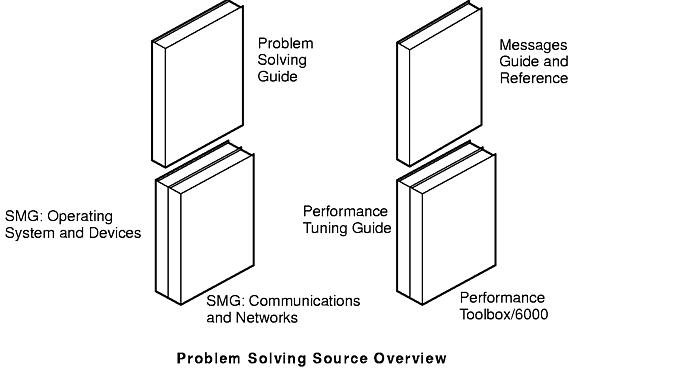 The AIX Version 4.3 Messages Guide and Reference includes reference and recovery information for seven-digit error messages and three-digit values in the operator panel display.
The AIX Version 4.3 System Management Guide: Operating System and Devices contains procedures for troubleshooting logical volume, file system, system accounting, printing and general device problems.
The AIX Version 4.3 System Management Guide: Communications and Networks contains procedures for troubleshooting general communications and network problems.
The AIX Versions 3.2 and 4 Performance Tuning Guide describes the concepts and techniques involved in assessing and tuning the performance of AIX systems.
The Performance Toolbox Version 1.2 and 2 for AIX: Guide and Reference describes a graphical interface to a collection of performance monitoring and tuning tools.
Refer to the Symptom Index to start your problem solving procedures or to determine the best source of information for your system's problem.
---
[ Previous | Next | Contents | Glossary | Home | Search ]