Video/Japanese Display Adapter

For High Quality Japanese Fonts



High quality Japanese Fonts on a screen. That's what IBM Japan pursued for from beginning.
IBM PC started with MDA, Monochrome Display Adapter ( 720x350 text only ) and CGA, Color Graphics Array ( 640 x200 2 colors ) in 1981.
In order to handle Japanese Kanji characters, Japanese PC manufacturers developed their own video systems.
Most of the manufacturers used 640 x400 dots resolution using 16 x 16dots kanji fonts and those video systems were "company specific" and were not compatible with each other. " Incompatibility among each hardwares" required company specific MS-DOS too. There were various versions of Japanese MS-DOS which could be used solely for specific PC.
IBM Japan decided to use high quality fonts in 24 x24 dots for their PC, IBM Multi-Station series, and it required 1024 x 768 high resolution. ( IBM Japan also used 16 x 16 dots fonts for entry class models and these were designed for 720 x 512 dots resolution.)
Non-abliviated Kanji fonts in 24 x 24 dots were really beautiful and basic concept about treatment of Japanese characters and video system of Multi-Station series had been carried over to PS/55 Display Adapter II and the video mode was called as PS/55 High Resolution mode. IBM DOS J4.0 ( usually refereed as JDOS ) was one of above mentioned company specific MS-DOS which was modified by IBM Japan to be used solely for PS/55s with PS/55 Display Adapters.


1981
1982
1983
1984
1987
1990
IBM US
MDA
CGA
----
----
---->
EGA
---->
VGA & 8514/A
-->
XGA
640x200
2C, 4C
640x350
6C
640x480
16C
1024x768
256C
1024x768
256C
IBM JP
Multistation 5550
------
---->
PS/55 D/A ----
-->
XGA
VGA DOS/V
1024x768
16C
1024x768
16C, 256C
1024x768
640x480
16C/256C
NEC &
NEC PC9801
--->
------
---->
AX JEGA ------
-->
VGA DOS/V
Others
640x400
16C
640x480
16C
640x480
256C
---
AVEC Series
PS/55 Japanese Display Adapters in Avec series were developed for 1st generation of PS/55s such as 5570 and 5550 386ers which had VGA chip on their planar.

Display Adapter ( LEO, is the code name for the card ? )
P/N ?
Double Decked Card prepared for 5570-S. Don't have enough information about this adapter.

P/N 38F4650 ( My memorandum shows different P/N 94X1649 for DA II )
This adapter came with 5550-S/T. 512KB VIDEO RAM on the PCB . additional 512KB VIDRAM can be added through connector J1.

---
Display adapter III ( AVEC ) P/N 64F8907
---
Display Adapter- IV ( AVEC ) P/N 38F7016

P/N 38F7016 ( Also different P/N 79F5417 is written in my log file )

Stock Video Adapter for 5530-Z ( and probably for 5530-T )
Seems there are two types of IV adapter. Optional 512KB VRAM can be added through connector J2.
Different P/N for optional VRAM are available. One is 38F7075 and the other is 64F9668.

This adapter has VGA chip ( 90X8941) but the connector is AVE.
When I noticed VGA chip on the card I thought this one was BVE card because 5530-T/S didn't have VGA chip on the planar. Strange card this one is.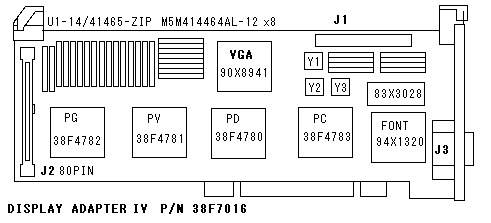 ---
Display adapter V ( AVEC )


P/N 56F7520
Stock Display adapter for 5551-S1/T1/V1 and 5571-V1

U1 FONT 94X1320
U2 38F4782 PG /TC110G38AF
U3 56F7478 PV /TC110G38CG
U4 38F4782 PG /TC110G38AF
U5 56F7478 PV /TC110G38CG
U7-13, 17- 48: 65X2554 (41465 ZIP)
U14 56F7477 PD /TC110G38AF
U15 54F7479 PC /TC110G17AF
U16 DAC 83X3208
J1 60PIN Connector for adtional VRAM
J2 40PIN connector
ZIP RAM below J21 65X2554
---
BVEC Series
Display Adapter B
I myself have not seen this card.
Display adapter B-II ( BVEC )


Older Version ( with ZIP type RAM )
P/N 79F2159
FRU ?
Stock video adapter for 5541-T(386-20), 5561-W( 486-33), 5580-Y, ( and probably for 5551-Vxx )

U1 VGA-FP 90X8941
U2 - U25 41465 ZIP
U27- U34 41465 ZIP
VRAM ( VGA ) M5M4464AL
U48 DAC 83X3028
U51 PG144-FP 38F4782PG
U52 PV144-FP 56F7478PV
U53 PG144-FP 38F4782PG
U54 PV144-FP 56F7478PV
U55 PD144-FP 56F7477PD
U56 PC144-FP 56F7479PC
U57 FONT 94X1320
Y1 25.175MHz
Y2 28.322MHz
Y3 45.570MHz
Y4 45.570MHz
Y5 47.424MHz
ZIP RAM beside Y3 65X2554 x8
J1 Solder pads( Poss for VRAM
EXPANSION )
J2 Video Output
Display Adapter B-II


Newer Version.
P/N 79F5413
FRU ?


U1-U7 MHS511665JP8
U8-U9 TC511664J-10
U10 VGA 90X8941
U12 ROS 79F5421
U14 HM511664JP8
U15 HM511664JP8
U18 HM511665JP8
U19 39F4782PG/TC110G38FG
U20 56F7478PV/TC110G38CG
U21 38F4782/TC110G38AF
U22 56F7478/ TC110G38CG
U23 79F5427 PD7/TC140G37AF
U24 54F7479 PC/TC110G17AF
U25 DAC INMOS IMSG176-J66
Y5 47.424
J2 Video Output
Y1 25.175
Y2 28.322
Y3 58.000
Y4 45.570
Y5 47.424
---
DBCS Series

DBCS series were sold with newer desktop 486ers such as 5551-N/Y/R/L, 5530-L, 5521-Y.
It is told that DBCS adapter family ( this one and Adapter/NI-J listed below ) were designed to keep compatibility with PS/2 systems. I'm not sure if these adapter don't need MONCHK.EXE when these are installed on PS/2s.
At least AVEC family ( Adapter-II/III/V ) should be used with MONCHK.EXE in autoexec.bat when these are used with PS/2 systems.

DBCS Display Adapter/J


P/N 49G2000
FRU 07G0446
Stock video card for 5551-N/Y.


U1-7 1M W/B HM511665JP8
U8-9 1M B/W HM511664JP8
U10 Video 34G3196
U11 79F5427 PD7 /TC140G37AF
U12/15 1M B/W HM511664JP8
U13 1M ROS 79F5424
U16 DAC Unable to identify
( heat sink is glued )
U17 1M W/B HM511665JP8
U18 38F4782 PG/TC110G38AF
U19 56F7478 PV/TC110G38CG
U20 38F7482 PG/TC110G38AF
U21 Unable to identify
heat sink is glued atop of the chip
U22 06G6722/BUSCON
Y1 45.570
Y2 58.000
Y3 47.424
Y4 25.175
Y5 28.322
Y6 41.5390
J1 Video Output
---
DBCS Display Adapter/NI-J


P/N 54G1464
FRU 54G1463

The last Japanese Display Adapter equipped in 5551-R/L and 5521-Y1B.
"NI" stands for "Non-Interlaced".

U1-2 HM511664JP8
U3 662G8275/HN62418FZ10
U4-5 TC51664BJ-80
U6-7 76G9119
U8 66G9060PGV2/TC6217TF
U9-10 76G9119
U11 ICS 9412 9128-42CW16
U12 34G3155
U13 54G1466
U14 79F5427/TC140G37AF
U15 06G6722
U16 INMOS IMSG176J-80
U18 Adapter ROM 85G7137
J1 Video Output
---
Win95 and Japanese Display Adapter
Win 3.1J driver for PS/55 display adapter family could be used on Win95 in 1024x768 16 color
resolution but it's S-L-O-W. Basically these adapters are for DOS ( and Win 3.1 ) operation.
For Japanese Readers, please see How to use PS/55 Display adapter family under Win95.

Installing PS/55 Display Adapter DA-J on PS/2
Basically Japanese Display Adapters were designed to be used with IBM Japan's specialized JDOS.
It was told that PS/55 DA with AVEC connector could not be used with PS/2. BVEC family and DA-J family could be used in PS/2. I'm not sure about this issue but I once used *some* card with 8570 25MHz planar. I don't remember exactly which card I used. Anyway in order to use Japanese D/A *compatible* with PS/2, you need some trick to get color signal correctly. Click here for the trick.