PC720 6860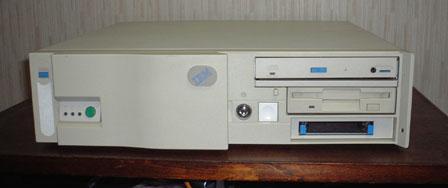 PC720 6860 was introduced to the market together with PC750 6886 in 1995. 6860 is not a Pentium based PC. IBM Japan didn't introduce PC730 6876 in Japan but, instead of introducing PC730, they made this unique, space-saving desktop model. PC720 6860 is a strange * Hybrid* PC with one MCA slot, one MCA/PCI shared slot and a ISA-ish slot for PCMCIA /A exclusively designed for this box..
Type Variation
Planar
Service Partition
CPU
Jumper Blocks
SIMM
Hard drive interface
CDROM
L2 Cache.
Small PCI
BUS Riser Card
Video
PCMCIA
PSU

---
Type Variation



PC720 6860

J4G

J00

J04

J08

JZG

CPU

iDX4-100

i486DX2-66

L2 Cache

128KB

None ( Socket is omitted )

RAM( std/max)
8MB ( Max 128MB, 32MB x4 )

4MB(128)

VRAM

2MB

1MB ( Upgradable to 2MB )

FDD

3Mode ( 1.44MB/1.2MB/720KB ) x1

HDD

728MB

540MB

Video

S3 Vison864

PS/55 D/A NI
Option Slot

PCI or MCA x1, MCA x1,

MCA x2

Small PCI NIC

---

---

TokenRing
Ethernet

---

PC Card Slot

Type I/II x 2 or Type III x1 ( ISA style PCMCIA /A)

Dimension ( mm )

360(W) x 370(D) x 89(H), 9Kg

Pre-installed OS

PC DOS J6.3/V, Windows J3.1

DOS J5.02Z
Type JZG was equipped with a PS/55 Display Adapter /NI-J and DOS J5.02Z ( JDOS ) .
Model 6869 is an ISA version of PC720.
Model 6863( also ISA ) is named as "PC720" but it's a Pentium machine with P-100.
6863 uses same planar with PC750 model 6883 ( probably sold only in Japan, planar is
different from that of 6885/6886 or 6887 ).
---
6860/6869 Planar ( DX4-100 model )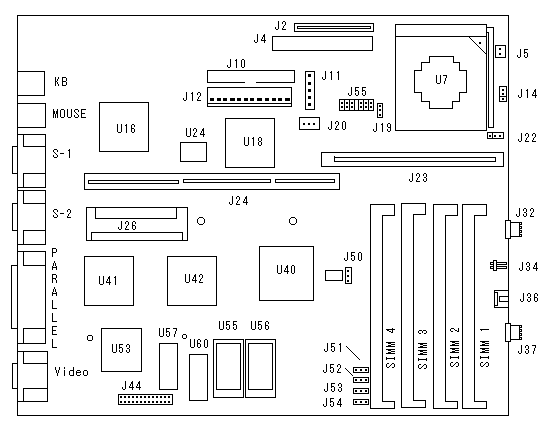 J1: FDD connector
J2: IR/PCMCIA
J5 : to Main Power SW
J11: to PSU
J12: to PSU
J14: CPU Select( SX/DX )
J19: Unknown ( default 1-2 closed )
J20: to PSU ( power good ? )
J22: FAN ( Solder pads only )
J23: L2 Cache socket ( DX4 models only )
J24: BUS Riser
J26: PCI-1 ( connector for Small PCI )
J27: PCI-2 ( solder pads only )
J32: Speaker
J34: Volume
J36: SUS/Resiume
J37: LED ( HDD & PWR )
J44:VESA VIDEO
U7 : Socket 3
U16: S9424BP/PC87323VULB
U18: M33s0570-013 OKI/06H3669 IBM
U24: 85G7319
U40: Unknown
U42: Unknown
U41: S3 Vision864/86C864P4
U53: S3 SDAC/86C716MG
U55/U56: Sockets for Additional VRAM
U57: DRAM KM416C22568J-6
U60: Ditto
J50: Frequency select ( 66/50 )
J51: Mouse EN/Disable
J52: FDD write EN/Disable
J53: 1-2/Normal, 2-3/RTC Clear
J54: Password Overwrite
J55: CPU Voltage select ( 5V/3.3V )
J2 is silk screened as "IR/PCMCIA". It is obvious that PCMCIA meant for 2nd PCMCIA device which should be installed at front end. I long time believed that IBM had just planned to develop such a device and they did not make it until I got 6869-J4K ( ISA DX4-100 model which is not listed in my PC GUIDE BOOK ) . J4K has additional PCMCIA slot just below FDD bay which you can see in the picture at the top of this page.
Next question is what does "IR" mean ? Is it for IrDA device and is there such OBI ever released for PC720 ?
---
Service Partition
6860 is not an IML machine but it does support service partition ( reference partition ? ).
My 6860 takes long time till set-configuration page comes on the screen when I boot the system with the Reference Diskette. It stays quiet while it reads configuration files as if the system halt. But from service partition stored in hard drive it goes straight into configuration menu.
CPU
Planar can take a DX2-66, DX4-100 or PODP5V83.
No interposer required to use 3.3V CPU's .
In order to use PODP, BIOS should be updated to KOJT66JP. See below.
PODP( & Win95)
PODP Support Diskettes Kit is consisted in 3 programs.
#1. 6860ref.LZH ; Reference Diskette Ver. 1.10
#2. 6860diag.LZH ; Diagnostic Diskette Ver 1.11
#3. PC720SP.LZH ; System ROM update utility Ver. 1.10A (KOJT66JP)
note
Win95 support program, win95serv0.exe, is not for 6860 but for 6863/6869 and other ISA
models. 32bit PCMCIA driver contained in this archived file is not usable on 6860. It's for
6863/6869 (and it may be for Win95A ).

Jumper Blocks
J55 ; Voltage select
For 5V CPU ; Close 2x3 jumper blocks near to the PSU connector.
For 3.3V CPU: Close 2x3 jumper blocks near to the CPU socket.
J14 ; CPU select
For 486DX ; set jumper plug on 2-3 ( default )
For 486SX ; set jumper plug on 1-2
Other Jumper Blocks
J19 : purpose unknown. default is 1-2 closed.
J50: Output frequency select for programmable IC ? 1-2 /50, 2-3/60
J51-J54; Default setting for these jumpers are all 1-2 closed.
SIMM
Planar takes 4, 8,16, 32MB, 70ns, FP, parity modules.
Hard drive interface
Only one IDE channel is provided. There are solder pads for 2nd IDE channel on the planar.
Even if the 2nd channel can be activated there is no room for 3rd IDE drive.
The drive interface is EIDE and it can handle drives larger than 524MB.
Now I'm using a 2.4G drive. Once tested a Seagate 8G drive but it couldn't detect the drive
( It could read and write a Seagate 6.4G drive with 15heads. I once used it ).
Hard drive runs in MS-DOS compatibility mode under Win95.
Win95 will load "standard IDE/ESDI hard disk controller" with configuration #1 which has
IRQ value fixed to 15.
Change the configuration to #0 which has IRQ 14, all drives will work properly.
CDROM
A genuine optional 2x speed CDROM ( yo can see it in the picture at the top of this page ) is
# 85G7285. I have a 4x slim drive for Toshiba laptops.
L2 Cache.
Same socket as 9577i or 9585 is used.
L2 cache module is P/N 85G4865 "128KB L2 SUPER CACHE". This module can be used for
M70/80 PowerBoard. To say the truce I bought my 1st 6860 in order to get a cache module in it.
DX2-66 model does not have a L2 cache socket.
L2 supercache

I have not ever seen this type of connector in any other PCs including AT clones.
IBM Japan made only 2 adapters for this interface.

1) SFF PCI Ethernet card ; C/R 85G4854 equipped in 6860-J08
2) SFF PCI TokenRing card ; C/R ? equipped in 6860-J04. I want to see it!
Small PCI connector

BUS Riser Card
All models other than JZG use same Riser Card which has PCI /MCA shared slot x1, MCA
slot x1 and one ISA style slot for 2Slot PCMCIA/A ( P/N 54G0547 ). Riser Card for JZG
dosen't have a PCI slot but it has one more MCA BUS slot for PS/55 Display Adapter /J which
locates under connector J6 ( opposite side of PCI slot J5). I'm not sure but probably J1 is for
Enable/Disable selector for PS/55 display adapter.
Outline below is the one for models other than -JZG.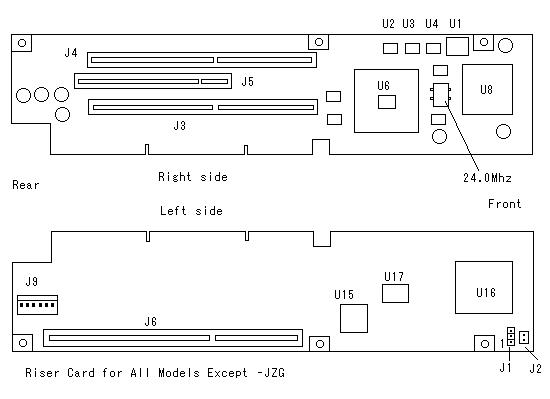 J1: Video /A selector ? default 1-2 closed
J2: Battery connector ( CR2032 )
J3: MCA1
J5: PCI
J4: MCA2
J6: ISA Style slot for PCMCIA /A
J9: to PSU
U1 : 74F760D
U2/U3: F543
U4 : F245
U6 : 06H5423 ( blue translucent chip )
U8 : 10G7808
U15: M91S028AT OKI/06H6468
U16: 06H4542
U17: LH5168N-10L
Video S3 Vision 864
S3 Vision 864 1MB ( 2MB for J4G model ).
Win95 recognize the chip with it's built-in driver.
JZG model doesn't use onboard S3 Vision but use a PS/55 DBCS Display Adapter/NI-J together
with pre-installed DOS J5.02/Z ( specialized DOS J5.02 for this model ).
PCMCIA
2 slot PCMCIA /A with ISA style connector is equipped in all models. ISA models ( 6869 and 6883) also use same adapter. Win95 built in driver can't handle this adapter properly on MCA models but the very same adapter installed in ISA models can be used without any problem under Win95B or Win98.
I tested a driver for Win3.1 " PC Card Director" on my 6860-J4G and I found it could handle
modem card. I've been using a 28.8Kb Double Jack Modem Card under Win95B.
PCMCIA device is not seen under system>control panel>device manager but the card securely
detected in PC Card Director. I don't know if other cards such as NICs or SCSI PCMCIA can
be used.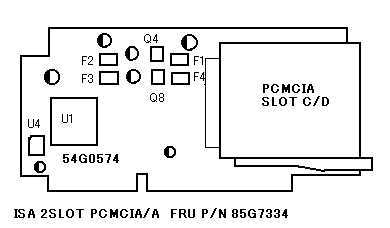 PSU
Max power consumption ; 70W
Regular power consumption ; 40W.
6860 has very unique PSU. Cooling fan will slow down running if the total system power is lower than 50W, and will stop to work lower than 30W. Thus the cooling fan usually stays idle. When I got a 6860 ( second handed as usual ) I immediately noticed that the fan didn't work at all. As I didn't know this unique feature I thought there would be some defects on the circuit board of the PSU. I disassembled PSU and soldered 12V line directly to the fan assembly. Latter on I was advised above unique function. The jumper wire is still there. Some machine have input AC voltage selector. Well, mine has a "fan mode selector"; summer mode with direct connection and winter mode with original connection.
Mine works fine under DOS. But under Win95B it usually freeze at start up after Win95 logo
appears on the screen. I solved this symptom modifying MSDOS.SYS to have a start up menu with default boot for Win95 after 60 seconds of delay time to boot. Maybe mine needs some intervals for stable DC output for planar, a hard drive and a CDROM. I'm sure that this symptom is not related to above fan cable modification 'cause I have same problem when I switch back to original cable connection .