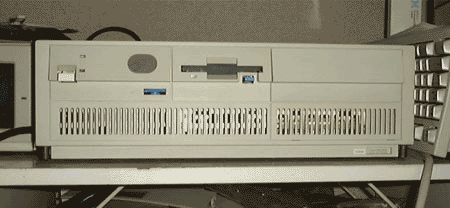 5560-W1B with "kit W2B"
Pictures for Processor complexes stored in this page are originally created by
Louis Frederick Ohland. You can see original pictures for PS/2 complexes
at Louis's complex page.
---
---

General information
5560-W, the first desktop model with 486 class CPU, was introduced to the market on Oct. 1990 together with 5580-Y.
5560 uses same base/outer case with PS/2 Mod. 90, ( 8590 or 9590 ) but the planar and the processor
complexes are different from 8590 and 9590. Main differences are as follows.
.
Two MCA BUS slots are prepared in stead of memory riser connector.
SIMM sockets are directly mounted on the planar
XGA video is not ready on the planar.
Power connectors are not Edge Card type.
5560 Planar
All types of 5560 use same planar.


J1 serial port
J2 Parallel port
J3 Mouse
J4 K/B
J5 Processor complex
J6 Power on pass word
J7 BVE 32-bit slot
J8 AVE 32-bit slot
J9/J10 32-bit slot
J11/12 32-bit slot
J13 Power
J23 Power
J24 FDD connector
J26 Solder pads
J27 Solder pads
J28 PWR/LED connector
J30 SP
Y1 40.00MHz
Y2 22.1148MHz
Y4 14.318MHz
Y5 24MHz
U20 57F2188
U28 64F0942
U43 N82077AA
U52 22V10-25 35F3798
U57 DSKBOOT 64F3110
F1 2A
F2 3A
F3 5A
J11 & J12 are not for SIMM risers but they are usual 32-bit MCA slots.
SCSI /A with cache is initially installed at J12.
Japanese Display Adapter B-II ( or XGA-2 ) is placed at J7.

Power connector
Edge card power connector is not used on this planar. J13/J23 are pin type connectors to which
female connectors from PSU are plugged.

Model-Types
As described in At a glance page, there are 4 types of 5560.

5561-W0x ; 486DX25 You'll have enough time for cigarettes and a cup of coffee or two until
the machine finish memory count if you have filled all SIMM socket with
8MB SIMM.
5561-W1x ; 486SX25 Memory count is faster than -W0x.
5561-W2x ; 486DX2-50 Most likely the complex is same with -W1x.
5561-Nxx ; 486DX2-66 Supper charged 5560 with a Type-B DX2-66 upgrade platform.
Model

5561

W08, W0B, W0C

W18, W1B, WYA, WYB

W28, W2B, WA8, WAB

Processor

486DX-25

486SX-25

486DX2-50

RAM

4MB

4MB ( 70ns)

4MB ( 8MB for WAx )

VRAM

1MB ( PS/55 Display Adapter ) B-2 ?

Disk
Drives
FDD

3.5" x1 ( 1.44MB/720KB )

HDD

Last digit of type code indicates HD capacity ( 8; 80MB, B; 160MB, C; 360MB )

Option Slots ( for users )

32bit full size x3 , 32bit half size x1

Storage bay

2

Dimension ( mm )

440( W ) x 430 ( D ) x 140 ( H )

Weight ( Kg )

14

AC Input

AC100--120V 50/60Hz, 215W ( MAX )

OS installed

None

WYx; S/2 J2.0 & DOS J5.0
WAx; S/2 J2.0 & DOS J5.0
Model

5561

N0B

NYB *1

NMB *

NMY *

Processor

i486DX2-66

RAM

8MB

16MB ( 70ns)

VRAM

1MB ( PS/55 Display Adapter ) B-2 ?

Disk
Drives
FDD

3.5" x1 ( 2.88MB/1.44MB/720KB )

HDD

200MB

Option Slot ( for User )
32bit full size x3 , 32bit half size x1
32bit full size x2, 32bit half size x1
Storage bay ( for user )

2

Dimension ( mm )

440( W ) x 430 ( D ) x 140 ( H )

Weight ( Kg )

11.4

AC Input

AC100--125V 50/60Hz , 194W( MAX )

OS installed

None

OS/2 J2.0 & DOS J5.0
OS/2 J2.0 & MCADAM
OS/2 J2.0 & MCADAM
*1 NYB : OS/2 model
*2 NMB : MCADAM/2 ( CAD software ) included . ASYNC TTL /Adapter is included.
*3 NMY : MCADAM/2 upgrade version. ASYNC TTL/Adapter is included
SIMM
8 x 72pin SIMM sockets are directly mounted on the planar.
True parity 8MB/70ns SIMMs are mandatory for -W1, -W2 and -N complex.
For W0 complex, 80ns SIMMs are standard and must be used in matched pair.
For W0/W1 models, reference Ver. 1.11 is required to use RAM's more than 16MB.
Video
No video chip is ready on the planar. PS/55 Display Adapter B-2 ( BVE with VGA chip ) is used for 5560.
5560 doesn't have XGA chip on the planar.
AVE 32-bit slot locates beside complex riser in addition to BVE slot which is already occupied with D/A B-2.
Genuine SCSI /A with cache
A stock SCSI /A for -W1/W2 models is, unlike 8590, half length 32 bit adapter with AT like 50 pin header .
ADF is usual @8eff ( 32Bit with cache ). SCSI micro code set is 64F4376/4377. See outline HERE.
16 bit SCSI /A was used for W0 model but I don't know if it was a long uncached card or short uncached card.
5560-N model was equipped with a short length SCSI Adapter II/A (32bit) with 512KB cache ( which is IDed as 06G6760 in sales leaflet and I think the part might be ether 35G2818 or 07G3063. )

Inner View ( click image to enlarge )
Photos below are inner view of my 5561-W1B with Type-B Upgrade processor complex.
Half sized caching SCSI /32A with 50 pin header was changed to a short caching SCSI /A -II/32A with new micro code set.
You can see an AM5x86-133 on an interposer with a short height heat sink which runs in 160MHz inner
speed ( No CPU fan but fresh air blows out from the front fan ).

Pic #1 ( click pic to get JPEG, 63KB )


Adapters ( from top )
J9 ; Madge Smart Ringnode MC32
J7 ; XGA2
J10 ; ACPA
J8 ; Intel Fax/Modem Adapter
J5 : Processor complex DX2/66 Up Grade Type-B
J11 ; vacant
J12 ; Short Cached SCSI with new Microcode

Close view of CPU #1

Close view of CPU #2

Pic #2 ( click pic to get JPEG, 84KB )


Close View ; SIMM and Power Connectors
You can pull the PSU upward and then swing it down to
right side like Mod. 95.

You can see Power connection is different from
PS/2 Mod.90.

Tall height SIMMs are not good for 5560.
Needs clearance between SIMM and the PUS.
---

Processor complex for 5560 ( please see comparing chart )
Following complexes can only be used with 5560 planar except W0 complex which can be used for 5580 if you want.

W0 ; P/N 79F0087, 80486DX-25MHz.


Seemed to be a Modified Type 1- J. 256K cache card available. No overdrive socket prepared.
This complex can take 31 MHz OSC without any change of BIOS. The Board design is same with 5580-Y complex. BIOS P/N are same each other but just the board P/N and FUR and OSC are different ( 5580-Y0 uses 33.3MHz OSC ).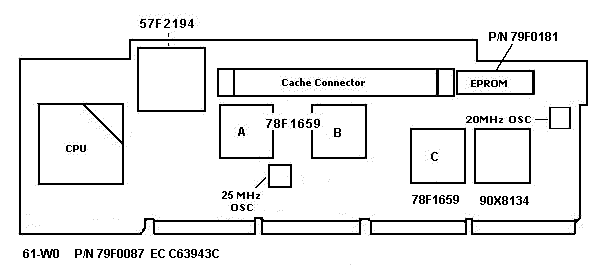 * Original image was outlined by Louis F. Ohland
W1 ; P/N 07G0460 FUR 95F4299, 80486SX-25MHz.
Modified Type H. 486SX CPU is loaded on the main socket ( U8 ) and an overdrive socket is
placed right next to the main socket. Memory count is faster than W0 complex.
No L2 cache available.


* Original image was outlined by Louis F. Ohland *
W2 ; P/N 07G3153


( amended on 2003.05.04)
My machine is labeled as "5561-W1B" and has a sticker "KIT-W2B".
KIT-W2B description.
A sticker "P/N 07G3153" and REA number is attached right on the area ( the solder side of U8,
80486DX socket) where P/N is silk screened on a W1 complex.
Also there is a " MPU Upgrade" sticker attached on the blue lock lever of the complex board.
Earlier W2x models were shipped with an i486SX-25 loaded on socket U8 and a 486-25/50 upgrade
option ( ID#06G7015 ) on socket U9. Latter models were shipped with i486DX2-50 loaded alone on
the socket U9. W1 and W2 complexes are "same" each other.
U6 Variants from Louis's page
" Some Type-2 (92F0079) suffer from an "incompetent DMA-chip", which is P/N 92F1428 at
position U6/GA-M on the card. Working Type-2s 92F0079 have a DMA-chip P/N 10G7808
at U6/GA-M. If U6/GA-M is 10G7808 a Turbochip should work fine.
The earlier Type-2 use the 92F1428 - which ends the experiment in odd results (permanent
I9990044, 605 FDD errors, permanent 165 errors and inability to read from FDD). "
But Japanese " KIT-W2B" with U6 P/N 92F1428 works fine with ;
1). DX4ODP-75 with 486SX25 on the 1st socket.
2). DX2-66 alone on the 2nd socket ( 50MHz inner clock operation )
3). DX4-100 on an interposer with VRM alone on the 2nd socket.
4). am5x86 or Cyrix 5x86 ( with voltage interposer )on the 2nd socket.
There is no significant difference between Type 2 H in Louis's page and above PS/55-W1/W2
complex. The board P/N ( or FRU ? ) and the BIOS P/N are just different.
N ; P/N 35G2951 FRU 35G2765 80486DX2-66MHz


A variant of Type 2- L?
No support for SyncroStreaming Data transfer.
Originally equipped in Model 556-N which was introduced to the market in Sep.1992.
The complex is also referred as DX2-66 UpgradeType-B .


* Original GIF image was outlined by Louis F. Ohland *
There is no over drive socket on this complex. At the position of U9 of W1/2 complex,
N complex has solder pads.
DMA controller chip U6 is 34G3517 for N and 92F1428 for W1/2.
At least there are 2 versions of this complex. While I replaced the OSC to 80MHz, I noticed
that copper traces around solder side of OSC were different, and found one board has a chip
resister and the other doesn't. Both complexes worked fine with 80MHz OSC with modified
BIOS ROM.
All complexes of model 5560 including N complex use EPROM.
Streaming data transfer feature is not supported on all 5561 complexes.
CPU upgrade:
For Wxx, DX4ODP-75 can be used. You can use DX4ODP-100 but it runs in 75MHz inner speed.
N model can take DX4-100, AMD and Cyrix with an appropriate VRM interposer which supplies
3.3v - 3.45v. As N complex has it's CPU socket at the front edge, it's difficult to use a thick heat
sink with a cooling fan in regular size. As far as you use blue plastic air guide properly, your CPU
will get fresh air flow from the front fan.
Complex upgrade:
60-W0/W1 can be replaced to -W2 or -N complex,
60-W2 can be replaced to -N complex.

60-W1/W2 complexes can be used for 5580. Associated REF/DIAG for 5560 could not be used
in this case. REF/DIAG for 5580-Wxx should be used together with.
5580 with 60-W0 complex with 5580-Y REF/DIAG ==> No equivalent model exist but works fine.
5580 with 60-W1 complex with 5580 -W REF/DIAG ==> 5580-W0x
5580 with 60-W2 complex with 5580-W REF/DIAG ==> 5580-W2x

---

My 5561-W1x ( upgraded with 60-N complex )
64MB of RAM, BIOS modified N complex with 80MHz OSC, am5x86 running x4 speed,
ATI-GUP, Madge Ringnode MC32, Genuine IBM SCSI /32A with cache, 650MB+1G hard drive,
Hitachi made x2 CD-ROM without bezel.

F/W SCSI-2 /A in 5561