---

General information
Japanese variants of PS/2 8570.
5550-S/T, the first Desk Top model of PS/55 line, were introduced to the market in Apr.1988 together with 5570-T ( 8580-20MHz analogous ). 5550-S/T were basically same with PS/2 8570. IBM Japan modified 8570 in some way. A most distinctive difference was the number of MCA slots. 50-S/T has four MCA slots.
The 4th slot was added for Japanese Display Adapter to handle Japanese characters on PS/2.
Thus 5550 planar was wider than that of PS/2 and, as a matter of fact, the body was also wider than 8570.
Except the width, 5550 and 8570 were almost same cosmetically.
The planar of earlier models of S and T had some problem regarding BUS Mastering feature and those planars were called Stage-1 and the models with free from this problem were called Stage-2. So there should be 4 types of planars for S and T models and another one ( or two ) for 25MHz version.

Easy way to identify stage-1 and stage-2 .
If the Power SW lever is RED, most possibly it's Stage-1.
If the Power SW lever is WHITE, maybe it's Stage-2.

Identifying with serial numbers.
Even if the Power SW is white, systems with following serial numbers belongs to Stage-I
5551-S09 S/N before 97-19300
5551-T09 S/N before 97-44700
5551-T0A S/N before 97-58000
5551-T0B S/N before 97-93100

Brief Chart of 5550 and Industrial 5500 models based on PS/55 System Guide
O: means the model is listed in the Guide Book
+ UG: means 486DX upgrade option is also listed
| | | | | | | | | | | |
| --- | --- | --- | --- | --- | --- | --- | --- | --- | --- | --- |
| | 5550-S | 5550-T | 5550-V0 | 5550-V1 | 5550-V2 | | 5502-S/T | 5502-TG | 5502-V2 | 5502-VG |
| 1988-07 | O | O | | | | | | | | |
| 1988-12 | O | O | | | | | | | | |
| 1989-06 | O | O | O | | | | | | | |
| 1990-02 | O | O | O + UG | | | | O | | | |
| 1990-07 | S1 O | T1 O | | O + UG | | | O | | | |
| 1990-11 | S1 O | T1 O | | O + UG | | | O S1/T1 | O | O | |
| 1991-05 | S1 O | T1 O | | | O | | O S1/T1 | O | | O |
| 1992-02 | | | | | O | | O S1/T1 | O | | O + UG |
Most possibly switch over to Stage-II from Stage-I was made around May to Jul in 1990.
As for 5530, 5530-T04/T08 ( Stage -II ) and 5530-S12/S14 ( ZSX on Stage -II ) were listed in 1990 Nov. edition.
---

Reference
Ref. Ver. 1.00 to Ver.1.36 are based on JDOS.
Ref. Ver higher than 1.4x are based on DOS/V.
Ver. 1.50 covers most of of all 386 models such as 5550-S/T/V, 5570-T/V, 5540-T, 5530-T.
---

Video
For S, T and Vo/V1 models
As like as PS/2 8570, PS/55 5550-S/T have VGA chip on the planar. But in order to handle true Japanese fonts,
PS/55 Japanese Display Adapter II ( with AVEC connector ) is equipped with earlier models of 5550-S/T ( and 5570-T ). VGA port on the planar is covered with a plastic plug.

For V2 model.
I'm not sure about a display adapter used for this model.
V2 planar does not have a VGA chip and it has BVE MCA slot. Then most possibly Display Adapter B or B-2 might be equipped with V2 model.
---

Memory
P/N capacity Remarks
65X1211 2MB 5550-S/T
65X1212 4MB 5550-T. Double-decked shape. Only one module can be used.
This module should be installed at J9( memory slot #3)
23F2165 4MB 5550-V0/V1. Double-decked ?

79F2536 4MB 5550-V, 5541-T, 5530-S/T, 5510-T
79F2500 8MB 5550-V, 5541-T, 5510-T


---

Hard Disk interface
Same as 8570, ESDI ( roughly speaking ).
---

Planar
There were various types of planar for 386-class 5550

| | | | |
| --- | --- | --- | --- |
| Model | CPU | Planar Level | MCA Slots |
| S | 16MHz | Stage-1 & Stage-2 | 4 Slots |
| T | 20MHz | Stage-1 & Stage-2 | 4 Slots |
| V0/V1 | 25MHz | | not sure, most possibly 4 |
| V2 | 25MHz | | 5 slots, No VGA chip on the planar |
I've once heard that S stands for Sixteen, T stands for Twenty and V stands for twenty fiVe.
---
Stage- 1 Planar ( 16MH/20MHz)
Following outline is a stage-1 T planar. Don't know how it differs from Stage-1 S planar. But most possibly these might be same except OSC Y5.
Following stage-1 20MHz planar looks like 8570 type 1 planar
20MHz T Planar P/N 65X1377, EC 341537S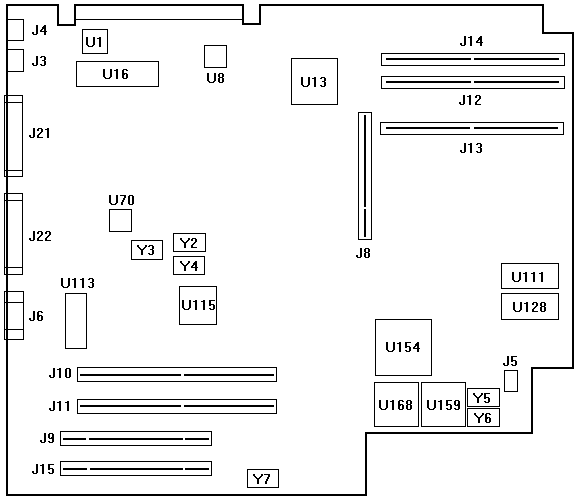 J3 Mouse Connector
J4 Key Board Connector
J5 Speaker
J6 VGA
J8 FDD/HDD Riser Connector
J9 16 bit MCA Slot ( AVE )
J10 32 bit MCA Slot
J11 32 bit MCA Slot
J12 MEM.LOCATION 3
J13 MEM.LOCATION 1
J14 MEM.LOCATION 2
J15 16 bit MCA Slot ( AVE )
J21 Parelel
J22 Serial
U1 LM340
U8 72065L / NEC D72065L
U13 PIO / 72X8299
U16 8042 / 72X8455 ( BIOS ? )
U70 NS16550 / NS16550AV
U111 27512 / 23F3012
U113 IMSG170 / IMSG171P-35
U115 VGA / 90X8941
U128 27512 / 23F3013
U154 80386 / i80386DX
U159 80387 co-pro socket
U168 DMA / 90X8134
Y2 25.175MHz
Y3 1.8432MHz
Y4 28.322MHz
Y5 40.0000
Y6 32.0000
Y7 14.318MHz
---

Stage-2 Planar ( 16MHz/20MHz )
Recently I had a chance to see stage-2 20MHz planar and noticed it is totally same with my Stage-2 16MHz planar except installed OSC Y1 and planar P/N.
Aside from the fact that 5550 has 4 MCA SLOT, Layout of Stage-2 planar is different from that of 8570 in following points.


5550 Stage-2 planar has only one SIMM socket on the planar. another 2 sockets are placed on the Expansion card which is connected to the planar through J3.


BUS riser J7 is moved left ( moved downward in the outline below ), hence HDD/FDD riser is different from stage-1 model and that of 8570 type-1 )



Speaker/Battery connector is not a riser type. SP/BT ASM is connected through wire and a male plug like 8580.
ZIP VRAMs are directly mounted on the planar.


See below and compare the planar with 8570 Type-1 outlined by by Louis.

Stage-II planar; P/N 38F6776 for S( 16MHz ) and 54G1612 for T ( 20MHz )
J1 Power connector edge card
J2 Keyboard
J3 Mem expansion connector
J4 Mouse
J6 Parallel
J7 Bus Riser
J8 DB25 serial
J9 HD15 Video
J10,11 32-bit slot
J13 16-bit AVE slot
J14 Speaker/Battery connector
J15 16-bit AVE slot
U10 NEC 72065L
U20 33F8602/FDC
U21 NS16550AFV/UATR
U22 33F5946/CPUGA
U23 33F5944/MEMCTRLGA
U31 33F5938/IOCTRLGA
U32 38F6972/EPP3GA
U38 N8042A/90X9298
U51 LM339
U52-57 M5M446AM--12(VRAM)
U43-44 ditto
U61 57X4211
U62 90X8134
U64 90X8941/VGA
U74 80386DX-16
U75 BIOS
U83 co-pro socket
U84 MC146818
Y1 32MHz for S, 40MHz for T
SYSTEM MEMORY EXPANSION CARD for 5550-S/T stage -2 planar


J1 102P connector to Planar J3
J2 MEM location 3 ( 2MB/4MB memory slot )
J3 MEM location 2 ( 2MB memory slot )
U1 LS244 ( SN74LS244N )
--- Not Available Now -----
As a matter of fact, I have not actually examined complete V systems ever. I just have a V2 planar. When I draw outline of the planar, I noticed that 25MHz V2 planar doesn't have onboard VGA. Man, this planar has 5 MCA slots and, to my surprise, there are solder pads for another 16-bit slots!
BUS riser slot J6 is shifted to the left comparing S planar I have. It means there should be more than three types of BUS Riser Card. Locations of BUS riser connectors are different with each other.
25MHz V2 planar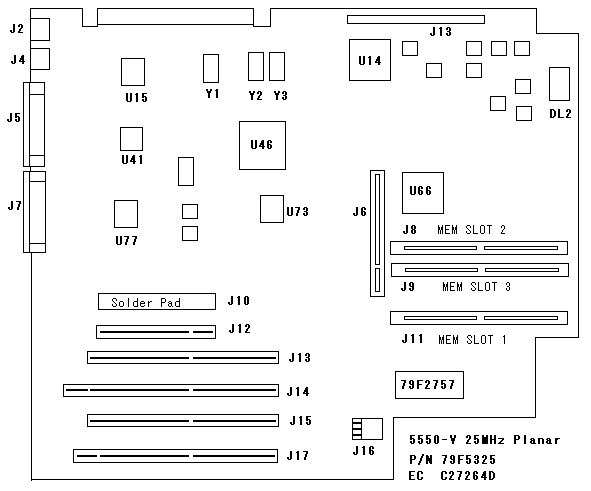 J1 Power connector edge card
J2 Mouse
J3 Connector ( CPU sub-board )
J4 Keyboard
J5 Parallel
J6 Bus riser ( watch the location )
J7 DB25 serial
J8 Memory slot #2
J9 Memory slot #3
J11 Memory slot #1
J10 Solder pads for 16-bit slot
J12 16-bit slot
J13 32-bit slot
J14 BVE 32-bit slot
J15 32-bit slot
J17 AVE 32-bit slot
J16 Speaker connector
DL2 TQW-100
U14 90X8134
U15 N8042( 90X9298)
U41 56F7502/ISERE
U46 72X8299/PIO
U66 57X4311
U73 NEC D72560L
U77 NS 16550
BIOS P/N 79F5325
Y1 32.0MHz
Y2 14.3MHz
Y3 40.0 MHz
Y4 1.8432MHz
CPU Daughter Board
Main differences between 8570 sub board and 5550-V2 sub-board are
1) Pin orientation of 387 co-pro
2) Planar-daughter board connector.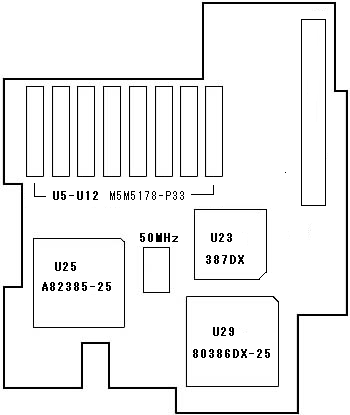 Memory
From 5550-V2 system guide;
One 4MB SIMM was originally installed, expandable up to 16MB on the planar.
Option SIMM's are
1) 4MB P/N 79F2536
2) 8MB P/N 79F2500 ( only one module can be used on a planar )
Clock Rodding
A guy once reported that he had changed 50MHz OSC to 60MHz and system worked without
POST error.
---

Riser card for HD and FDD
As written in V planar section, there are several types of BUS riser cards. I once had two types of riser card but there should be three or more.


CPU upgrade
I tested following upgrade kits on my S and T models.
1. Evergreen upgrade modules with IBM486BL2 and BL3.
Cyrix and TI chips could be used on S/T models but not on V models due to 64K L2 cache on the
CPU board ( I have not examined. ).

2. Kingston MC master 486 ( originally made by AOX ).
I used it on T planar. MCMaster can take a 5x85 CPU but you can't use neighboring MCA slot in
order to use 5x86 CPU with a heatsink. Not a good choice for 8570 because it has only 3 MCA slots.

3. PowerBoard
In order to use a PowerBoard on S( Stage-II ) model, some adjustment is needed to place the board
properly.
1) Need to adjust location of metal parts for screw holes to keep the planar.
Location of screw holes at left front edge is different between S and T/V.
2) a BUS Riser card for FDD and ESDI hard disk for T model.
3) battery and SP unit for T model.

Genuine option by IBM
80486-25Mhz Processor Upgrade Kit ( P/N 57F0085 ) was listed for 5551-V0x model.

5502
5502 is an industrial model number.
Industrial models are numbered as " 5500" and each model has unique number such as 5502-S1x, -T1x and so on.

Type
CPU

Memory

HD

FDD

Option Slot

STD

MAX

32/16bit

16bit

S01
16MHz

2MB

16MB
--------

1

2

1

S11
16MHz

2MB

16MB

----------

1

2

1

T19
20MHz

2MB

16MB
30MB

1

2

1

T1A
20MHz

2MB

16MB
60MB

1

2

1

T1B
20MHz

2MB

16MB
120MB

1

2

1

TFx
20MHz

2MB

16MB

1

Poss same with TGx
TGA
20MHz

2MB

16MB
60MB

1

4 *

1

TGB
20MHz

2MB

16MB
120MB

1

4 *

1

V2A
25MHz

4MB

16MB
80MB

1

3

2 ( half )

V2B
25MHz

4MB

16MB
160MB

1

3

2 ( half )
VGA
25MHz

4MB

16MB
80MB

1

3

2

VGB
25MHz

4MB

16MB
160MB

1

3

2
Number of Option Slot
System Guide describes number of Option Slots left for users except already occupied with a Display Adapter.
So basically, one slot should be added to the number shown in a diagram.
Model S11 to T1B meet with the rule and one 16bit AVE slot might already be occupied with a display adapter. Then how it comes that TGA and TGB were noted as 4 + 1 ? Wonder if these 2 models were not shipped with any Display adapters and use VGA on the planar?
Next question; it seems models Vxx models DO have activated 16bit 6th slot shown in outline of 5550-V2 planar. 5550-V2 planar has four 32/16bit slots including x1 AVE and x1 BVE slot. But above diagram shows 5500-V have three 32/16bit slots and two 16bit slots. If 32/16bit BVE slot was occupied with a Display adapter, total MCA slots would be SIX including two of 16bit slot. Would like to see the planar.