Processor / Socket-Type
http://developer.intel.com
Please see the complete list of Intel(R) trademarks at > http://www.intel.com/tradmarx.htm

Processor / Socket-Type

Proc.
Name
Specified processor
MHz
Socket
type
pins
PGA
Volt
I/O
Volt
core
P4
i80486DX
 
 
 
 
 
 
P4S
P23
i80486SX
 
 
 
 
 
 
P23S
P23N
i80487SX
 
 
 
 
 
 
P23T
P4T
i80486 Overdrive for
80486 (169 / 168 PGA)
 
 
 
 
 
 
P24
P24S
i80486DX2
 
 
 
 
 
 
P24D
i80486DX2WB
 
 
 
 
 
 
P24C
i80486DX4
 
 
 
 
 
 
P24CT
i80486DX4WB
 
 
 
 
 
 
Proc.
Name
Specified processor
MHz
Socket
type
pins
PGA
Volt
I/O
Volt
core
P5
Pentium®
60 or 66
4
273
21x21
5V
5V
P24T
Pentium® Overdrive
for 80486
63 or 83
3
237
19x19
5V
3.3V
P54C
Pentium®
75+
5
7
320
321
37x37
3.3V
3.3V
P55C
Pentium® with MMX
166+
7
321
37x37
3.3V
2.8V
P54CTB
Pentium® with MMX
Overdrive for
Pentium®
125+
5
7
320
321
37x37
3.3V
2.8V
P6
Pentium® Pro
 
8
387
 
 

PGA - Pin Grid Array

Socket Type-7 may utilize a VRM (Voltage Regulation Module). A VRM allows different CPU Voltages to be supported by interchangeable VRM's. A VRM would be common for very high CPU MHz rates and / or when a precise core voltage is needed. (On the PC-700 Series, the VRM socket is a 30-pin two row header.)

Pentium® ZIF-5 & ZIF-7 Socket. (320/321-pin)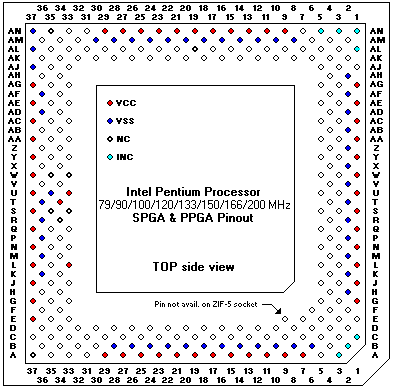 Pentium® Processor Block Diagram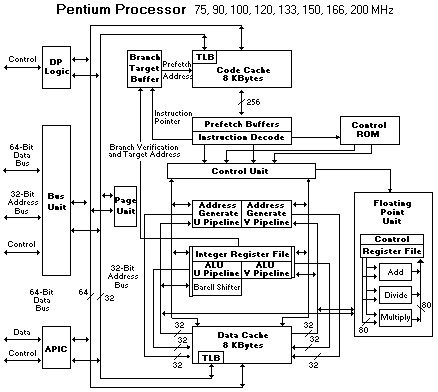 The (above) block diagram shows the two instruction pipelines, the U pipe and the V pipe. The U-pipe can execute all integer and floating point instructions. The V-pipe can execute simple integer instructions and the FXCH floating-point instructions.

The separate code and data caches are shown. The data cache has two ports, one for each of the two pipes (the tags are triple ported to allow simultaneous inquiry cycles). The data cache has a dedicated Translation Lookaside Buffer (TLB) to translate linear addresses to the physical addresses used by the data cache.

The code cache, branch target buffer and prefetch buffers are responsible for getting raw instructions into the execution units of the Pentium® processor. Instructions are fetched from the code cache or from the external bus. Branch addresses are remembered by the branch target buffer. The code cache TLB translates linear addresses to physical addresses used by the code cache.
---
Back to  

Please see the LEGAL  -  Trademark notice.
Feel free - send a 

  for any BUG on this page found - Thank you.