Rapid Access Keyboard - Buttons Customization

Rapid Access Keyboard - Buttons Customization

Below is an illustration showing the Rapid Access Buttons and their functions.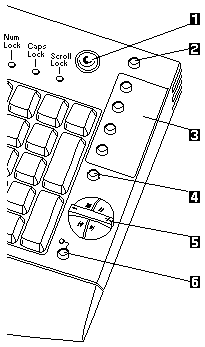 Suspend button
 Help button
 Customizable buttons (4x)
 Play CD button
 CD/Volume control buttons
 Mute button


Customizing the Rapid Access Buttons

The first time you press one of the customizable buttons -3-, the computer will automatically start the Rapid Access software, which will help you through the customization process.
To change the customization of the Rapid Access Buttons at a later time, you can access this software by doing the following:

 Click on Start, go up to Settings, then to Control Panel
 Double click on Rapid Access Keyboard to open the software.


To get more information about labeling the Rapid Access Buttons, setting up preferences, setting up the work area, and troubleshooting, click on Help button at the first screen of the Rapid Access software.
You can also get hints and tips on using the Rapid Access Keyboard by accessing the IBM support Web site.

To access this site use the following address:

http://www.pc.ibm.com

On that page, you will see a scrolling box where you can choose your country of origin. When you have choosen a country, click on the word Go, go to right of this box. This will load a web page written in your country's primary language. On this page, select Options by IBM, which will be in the navigations area to the left. From there, you can choose which group of products you want information about. If you want access the Options by IBM support page directly, in English, you can find it at the following address:

http://www3.pc.ibm.com/support
---
Back to  

Please see the LEGAL  -  Trademark notice.
Feel free - send a 

  for any BUG on this page found - Thank you.