IBM P200 Timing Specifications (6555)


IBM P200 Timing Specifications (6555)

The following table defines the system display capabilities and provides an example of a preset mode for 1280 x 1024 with a vertical refresh rate of 77Hz.

NOTE: * = dependent upon display mode.


 Timing Parameters    P200 Max. Capability     Example 1280x1024 @77Hz
 ---------------------------------------------------------------------
 Sync Type            Composite Sync on        Composite Sync on Green
                      Green or Separate Sync
 Format Maximum       1600 x 1280 @ 66Hz       1280 x 1024
 Format Optimum       1280 x 1024 @ 77Hz       1280 x 1024
 Pixel Clock Frequ.   200 Mpels/sec            148 HHz
 Pixel Time           5.0000 ns                6.7567 ns
 H line Frequeny      90 KHz                   81.32 KHz
 H active scan time   *                        8.648 us
 H front porch width  *                        0.27 us
 H Sync width         0.8  us minimum          1.38 us
 H Back Porch width
 (Sync on Green)      0.6  us minimum          2.00 us
 H Back Porch width
 (Separate Syncs)     1.2  us minimum          2.00 us
 H Blank width        2.80 us minimum          3.65 us
 V Frame rate
 (Frequency)          50-120 Hz                77 Hz
 V period             *                        12.987 us
 Serrated V Sync      2 lines minimum          (3 lines)  37.06 us
 V Front Porch width  3 lines minimum          (3 lines)  37.0  us
 V Back Porch width   *                        (26 lines) 320.0 us
 V Blanking width     320 us minimum           (32 lines) 394   us
 Total scan lines     *                        1056
 V Displayable lines  *                        1024


RGB input timing Horiz. Sync interval 1280x1024 112MHz timings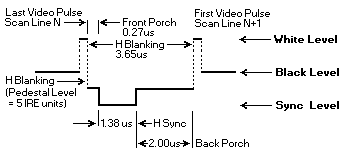 1280x1024 at 60 Hz

RGB Input signal amplitude, horiz. interval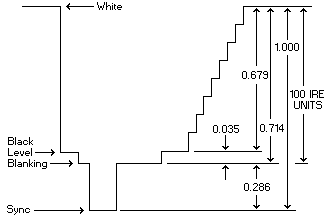 Composite Video Amplitude Summary
| Level | IRE Units | P-P Volts Nominal | Tolerance (-) | Tolerance (+) |
| --- | --- | --- | --- | --- |
| Sync to Blanking Pedestal | 40 | 0.286 | 0.287 | 0.292 |
| Blanking Pedestal Setup | 5 | 0.035 | 0.034 | 0.036 |
| Reference Blanking to White | 100 | 0.714 | 0.696 | 0.731 |
| Composite Video Amplitude | 140 | 1.000 | 0.974 | 1.023 |

Video Overshoot/Undershoot = 2% maximum (of 100 IRE)

(1 IRE Unit = 1% of video ie. Blanking to White) DC bias of the video signal with respect to ground will be equal to or less than 2.0 volts.
---
Back to  

Please see the LEGAL  -  Trademark notice.
Feel free - send a 

  for any BUG on this page found - Thank you.