Hot-Swap Backplane

Hot-Swap Backplane

If servers with hot-swap backplanes may experience intermittent drive errors, defunct (DDD) drives that don't spin down or drive LEDs that don't blink when a drive has failed.

If the system is an 8641, 8642 or 3518 with one or more hot swap backplanes installed.

Check the Backplane Address Jumper:

 Shutdown the operating system
 Power off the server.
 Verify the Backplane Address Jumper configuration:

 For ALL 8641 backplanes: Jumpers should NOT be present  on the pins for Bank0, Bank1, or Bank2 on any backplane.  Refer to below Figure for locations.

  The PC Server 520 (8641) may have shipped with a backplane  address jumper installed, it should be removed.

 For 8642 and 3518 backplanes: Each backplane MUST have a  unique address. A jumper should be present on the pins  for Bank0, Bank1, OR Bank2 depending on the backplane's  location within the server or expansion enclosure.  Refer to the below Figure to determine the correct jumper  setting for an 8642 or 3518 backplane:
Front View

 

SCSI ID Jumper

If two backplanes are connected to the same adapter, one backplane must be set to high and the other one to low.

| SCSI ROM Address ID Jumper Setting | Description |
| --- | --- |
| HI = High | Assigns SCSI IDs 8 to D to the backplane |
| LO = Low | Assigns SCSI IDs 0 to 5 to the backplane |

Rear View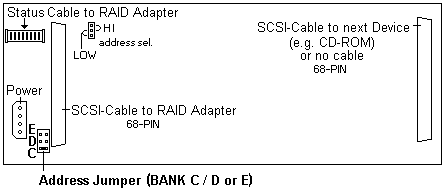 ---
Back to  

Please see the LEGAL  -  Trademark notice.
Feel free - send a 

  for any BUG on this page found - Thank you.