Input/Output Connectors
Input/Output Connectors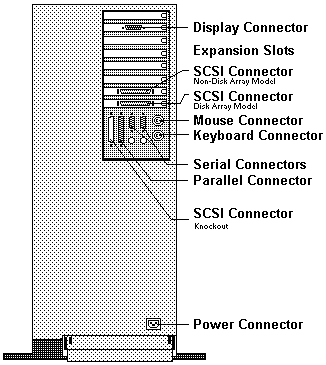 Power Connector The server power cable connects here.



 
Keyboard Connector The keyboard cable connects here.



 
Mouse Connector The mouse cable connects here.
This connector is sometimes called the auxiliary-device or
pointing-device port.



 
Parallel Connector The server has one 25-pin parallel port.
A signal cable for a parallel device, such as a printer, connects here.

SCSI Connector Knockout This knockout allows access to
the internal connector on a second SCSI-2 adapter


 
Serial Connectors The server has two 9-pin serial connectors (A and B).
Serial signal cables for modems or other serial devices connect here. To attach 25-pin signal cables, you must use a 9-pin-to-25-pin adapter cable.



 
SCSI Connector External small computer system Interface (SCSI) devices attach here.



 
Display Connector The display signal cable attaches to the connector on this adapter.
---
Back to  

Please see the LEGAL  -  Trademark notice.
Feel free - send a 

  for any BUG on this page found - Thank you.