Using the Configuration/Setup Utility


Using the Configuration/Setup Utility

The built-in Configuration/Setup utility program provides a convenient method to configure various system settings. The configuration information is stored in CMOS. In most cases, the server will operate using the default settings.

Always run the Configuration/Setup utility program if you have added or removed any hardware option, or if you receive an error message instructing you to do so. Review the following information and the information supplied with the device before making changes.

NOTE: Record the current settings before making any changes.

The following menu appears when you start the Configuration/Setup utility program. Included with each selection is a short description of its purpose.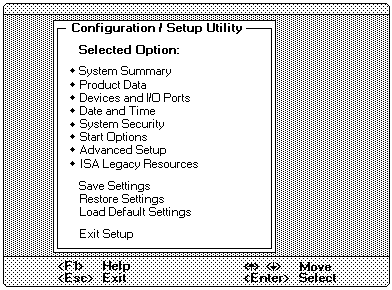 NOTE: When a power-on password is entered and an administrator password also is set, a limited version of the menu appears. To change the settings, the administrator password must be entered.

 System Summary: Displays the  current settings for all system functions, such as processor  type, speed, and memory. You cannot change any information from this screen.
 Micro Channel Configuration: Displays the status of  adapters in the Micro Channel expansion slots. For additional information,  or to change the information displayed, you are prompted to insert the  Reference Diskette.
 Product Data: Displays specific information about the  server.
 Devices and I/O Ports: Displays a menu from which you  can view or change the current settings for the serial and parallel ports,  mouse, diskette drives, and video.
 Date and Time: Allows you to change the current date and  time in the battery-backed memory.
 System Security: Allows you to set a power-on password, or  to set an administrator (or supervisor-level) password. You also use this  option to control access to a diskette drive, and to define a system owners  name that displays on startup.
 Start Options: Allows you to select startup options such as  the keyboard speed. You can also set the startup sequence of diskette and  hard disk drives.
 Advanced Setup: Allows you to change system functions such  as cache control and ROM shadowing.
---
Back to  

Please see the LEGAL  -  Trademark notice.
Feel free - send a 

  for any BUG on this page found - Thank you.