IBM Token-Ring Network 16/4 Adapter/A
IBM Token-Ring Network 16/4 Adapter/A

16/4 Adapter/A FRU Parts

74F9415 IBM Token-Ring Network 16/4 Adapter/A
6339098 IBM Token-Ring Network PC Adapter Cable
 PRIMARY OR ALTERNATE ADAPTER:
     Up to two Token-Ring Network adapters may be installed in a computer.
     An adapter may be either Primary, which is accessed at
     port addresses 0A20 through 0A23, or Alternate, which is accessed
     at port addresses 0A24 through 0A27. If one Token-Ring Network
     adapter is installed, it may be either Primary or Alternate.
     If two are installed, one must be defined as Primary and the other
     Alternate.
     The assignment for the Token-Ring Network adapter can be changed
     by selecting 'Change Configuration' and then using the
     F5=Previous and the F6=Next keys.  If an assignment has an
     asterisk (*) by it, it is in conflict with another
     assignment and the port address must be changed.  If a
     conflict continues to exist, you may have to change the
     assignments for other adapters or options that are in your
     computer to resolve the conflict."
 ADAPTER DATA RATE:
     This Token-Ring Network adapter data rate must be set to the same
     rate (4 or 16 Mbps) as the Token-Ring Network LAN segment to which
     you are connecting the adapter. The assignment for this data rate
     can be changed by selecting 'Change Configuration'
 ROM ADDRESS RANGE:
     There are 12 possible 8K blocks of memory that can be assigned
     for accessing the ROM area of the Token-Ring Network adapter.
     The preferred ROM address for the adapter is: CC000-CDFFF.
     The assignment for this ROM address can be changed by selecting
     'Change Configuration'.
     The ROM address selected must not be assigned for use by any
     other adapter or option and cannot be the same as the RAM
     address for this adapter.  If an assignment has an asterisk (*)
     by it, it is in conflict with another assignment and the ROM
     address must be changed.  If a conflict continues to exist, you
     may have to change the assignments for other adapters or options
     that are in your computer to resolve the conflict."
 RAM SIZE and ADDRESS RANGE:
     There are 30 possible blocks of memory that can be assigned for
     accessing the RAM located on this Token-Ring Network adapter.
     The preferred RAM Size and Address Range for the adapter, which
     allows RAM Paging, is: 16 KB / D8000-DBFFF.
     The assignment for this RAM Size and Address Range can be changed
     by selecting 'Change Configuration'.
     The RAM Address Range you select must not be assigned for use by
     any other adapter or option, and it cannot be the same as the ROM
     address for this adapter.  If an assignment has an asterisk (*)
     by it, it is in conflict with another assignment and the RAM Size
     and/or Address Range must be changed.
     If a conflict continues to exist, you may have to change the
     assignments for other adapters or options that are in your computer
     to resolve the conflict."
 INTERRUPT LEVEL:
     This Token-Ring Network adapter can operate on one of four interrupt
     levels: 2, 3, 10, or 11.  The preferred interrupt level is 2, but
     the adapter can operate on any of the four levels if necessary.
     The assignment for this interrupt level can be changed by selecting
     'Change Configuration'

SUMMARY
The IBM Token-Ring 16/4 Network Adapter/A allows you to attach IBM PS/2 computers equipped with MicroChannel architecture to the IBM Token-Ring Network. It transmits and receives data at a rate of either 4 or 16 Mbps. It has 64 KB of random access memory (RAM), of which 63.5 KB are available for use by an application program and 512 bytes are reserved.
Installation Requirements
One of the following CABLES (not furnished with the adapter).
 An IBM Token-Ring Network PC Adapter Cable (MKT P/N 6339098) or equivalent, if the LAN segment  uses IBM Cabling System data grade media. (shielded-twisted-pair)
 A Category 3, 4, or 5 cable with RJ-45 connectors, if the LAN segment uses telephone twistet-pair  media (a wrap plug, IBM MKT P/N 72X8011, is also required)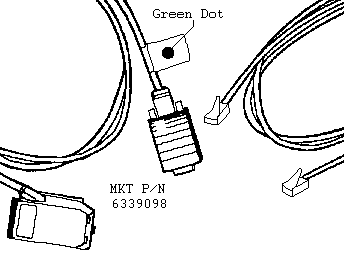 Testing the Adapter
 Insert the computer's Reference Diskette into drive A
 Select the item that allows to set the configuration

 Select the item that allows to view the config parameters
 Make sure that the slot number/adapter name/data rate/RAM size is correct

 Return to the main menu and select testing the computer
 Select Token-Ring 16/4 Adapter/A
 Follow the instructions displayed on screen
Error Codes

NOTE: The 5-digit error code begin with 166 if you are testing the PRIMARY adapter or 167 if you are testing an ALTERNATE adapter.

16x80 Invalid testing mode requested
16x81 Primary adapter not present
16x82 Alternate adapter not present
16x85 Configuration compare failure
16x90 Adapter Card Test failure
16x91 Open Phase Test failure
16x92 Computer problem
16x93 Transmit/Receive Test failure
16x99 General error
---
Back to  

Please see the LEGAL  -  Trademark notice.
Feel free - send a 

  for any BUG on this page found - Thank you.