IBM 35/70 GB DLT Internal Tape Drive (SCSI F/W)

-IMPORTANT-

  -ATTENTION-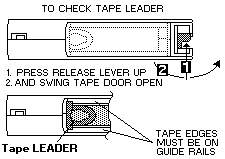 If you see a blinking STATUS Indicator #2 and the tape doesn't go to a ready status, then maybe you have mounted a tape cartridge with a broken/defective TAPE LEADER.
Such a defective cartridge must be manually removed from the drive, and the Tape Drive-guide must be placed/reseated to the home position, inside the tape drive (by a trained technician).
However, the easy way - before mounting a cleaning/data cartridge - visually check the TAPE LEADER !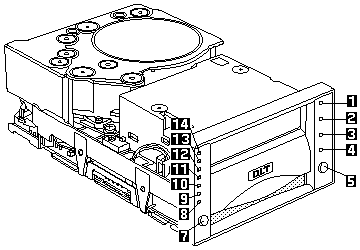 | 1 - 4 |    Status indicators |
| --- | --- |
|    5 |    Unload button |
|    6 |    Cartridge Insert/Release handle |
|    7 |    Select button |
|    8 |    Density/Override indicator |
|    9 |    Compress indicator |
|    10 - 14 |    Tape Capacity indicators |
If all indicators are flashing, it indicates a hardware failure in Resetting the Drive  has occurred. Try to reset the drive by pressing the tape UNLOAD button, or turn computer power off, then on again.
Solving Problems
Computer problems can be caused by hardware, software, or user error. Using the information in this section, you might be able to solve such problems. Take the following actions:
 Press the Unload button to reset the tape drive.
 Power the system off, then on.
 Check the drive to ensure that all power and signal cables are  securely attached.
 Make sure the length of all SCSI cables does not  exceed 3 meters (10 feet).
 Make sure you used the screws that came with the tape drive.
 Other screws could be too long and cause electrical shorts or  mechanical problems.
 Make sure there are not more than 16 SCSI devices (including the  adapter) on one bus.
 Check the SCSI ID jumper setting. No two SCSI devices can have the  same SCSI ID.
 Check that the parity jumper setting is correct for your computer.
 Check that each end of the SCSI bus is terminated. There must  be one terminator or a terminating device at the last active connector  on the SCSI cable.
 Be sure there is a jumper in position 5 on jumper block 4 as shown on the right page.
 Remove the drive. Check for bent or misaligned pins. If there  are no problems, reinstall the drive.
 Reconfigure the SCSI adapter. You may need to remove and  reinstall existing devices. Or you may need to change data transfer  support from synchronous to asynchronous.
 If you cannot manually change the tape capacity, check the Maximum Data Capacity table on the right page to make  sure the capacity you want is supported by the cartridge.
 If the tape does not load, open the cartridge door by lifting up on  the door lock with your thumb and pushing in. The leader should be  visible as shown in the illustration on top of this page.
---
Back to