Memory board removal

Memory board removal

Note: Read Safety Information.

Refer to the following illustrations when performing the following procedure. To re-install the memory board after it has been removed, reverse the following procedure.

Note: When inserting the memory board into its slot on the processor board, be sure to push down on the edges of the board itself and not on its handle.

Note: The illustrations show only the processor support tray, processor board, and memory board for simplicity; you do not need to remove the processor support tray from the server to remove the memory board.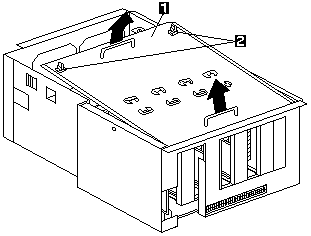 1 Processor support tray cover
2 Quarter-turn fasteners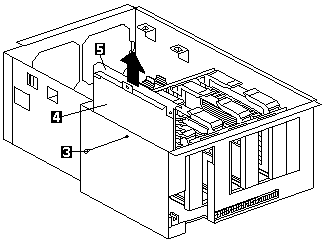 3 Thumbscrew
4 Memory board
5 Memory board handle


To remove the memory board, do the following:

 Turn off the server and peripheral devices and  disconnect all external cables and power cords (see  'Preparing to install options'); then  remove the top cover (see Top Cover Removal).
 Turn the quarter-turn fasteners 2 on the processor  support tray cover 1 one quarter turn and remove  the cover from the processor support tray.
 Remove the thumbscrew 3 from the side of the  processor support tray.
 Lift up on the memory board handle 5 and remove  the memory board 4 from the server.
 Place the memory board 4 on a static-protective  surface, such as the static-protective package in which an option came.
---
Back to  

Please see the LEGAL  -  Trademark notice.
Feel free - send a 

  for any BUG on this page found - Thank you.