How to Use the Front Door Key

How to Use the Front Door Key


The front door key and lock are located on the tront bezel of the tape library.
The key and lock are concealed by a panel hinged along the top.
The panel is secured by a double acting, push-push latch. It can be opened by pressing the raised area in the middle of the front surface of the panel, which releases the latch.
The panel can be secured by closing it and pressing the raised area in the panel until the latch engages.

The front door key has three positions:


Figure 18 shows the three key positions and the labeling on the front door.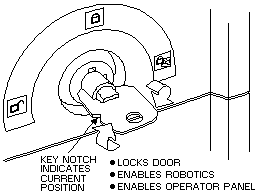 Figure 18. Key Lock 
---
Back to  

Please see the LEGAL  -  Trademark notice.
Feel free - send a 

  for any BUG on this page found - Thank you.