Controls

Controls

Tower model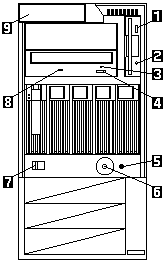 Rack model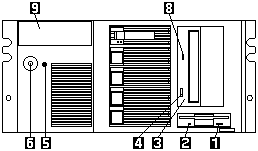 Diskette-Eject Button: Press this button to release a diskette from the drive.
 Diskette Drive In-Use Light: This light comes on when the diskette drive is accessed.
 CD-ROM Manual Tray-Release Opening: Insert a straightened paper clip in the  opening to release the CD-ROM tray when using the CD-ROM eject button is not successful.
 CD-ROM Eject Button: Press this button to release a CD from the CD-ROM drive.

NOTE: If the CD-ROM tray does not extend out, insert the end of a straightened  paper clip into the manual tray-release opening and gently pull the tray open.

 Reset Button: Press this button to reset the server.
 Power-on switch: Use this switch to turn on the server,  or to return the server to Standby mode (power is present but the server is not turned on).

Important After you plug the server power cord into an outlet,  wait 20 seconds before pressing the power switch. (During this time, the system-management  processor is initializing and the power-on switch does not respond.)
  Caution The Power-On button on the front of the server
 does not turn off the electrical current supplied to the server. The server also might have  more than one power cord. To remove all electrical current from the server, ensure that all power cords  are disconnected from the power source.

 The automatic restart feature, which enables the server to restart following a momentary power loss,  means that the server is never completely turned off. Do not set the server to the Standby mode if  any drive in-use light is on. This might damage the information stored on a hard disk drive or on a  diskette. A Power-On Switch protector, which prevents the Power-On Switch from being pushed  accidentally, is shipped with the server.  p.  To toggle the server between Standby mode and actively running, press and release the Power-On Switch.

 Side-Cover Release Lever: Use this lever to release the left-side cover.
 CD-ROM Drive In-Use Light: This light comes on when the CD-ROM drive is accessed.
 Operator LED Panel: This panel contains LEDs that light to indicate conditions  on the server, such as power on or a system error (see 'Front Panel Indicators').
---
Back to  

Please see the LEGAL  -  Trademark notice.
Feel free - send a 

  for any BUG on this page found - Thank you.