Input/Output Connectors
Input/Output Connectors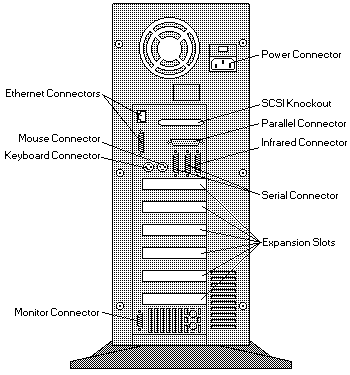 Ethernet Connectors:  There are two Ethernet connectors:
 a DB-15 and an RJ-45. The DB-15 attachment unit interface (AUI) connector
 is for attachment of external 10BASE2, 10BASE5, or 10BASE-F medium
 attachment unit (MAU).
 The RJ-45 connector is for attachment to the integrated 10BASE-T
 (twisted-pair) transceiver.
 NOTE:
 If the server is shipped with an Ethernet interface cable, it must be
 attached to the RJ-45 connector on the server, and the cable on the
 10BASE-T device.


 
 Mouse Connector:  This is where the mouse cable connects
 to the server.  This connector sometimes is called an auxiliary-device
 or pointing-device port.


 
 Keyboard Connector:  The cable from the keyboard connects
 here.


 
 Monitor Connector:  The monitor signal cable connects here.


 
 SCSI Connector:  Attach external SCSI devices here.


 
 Parallel Connector:  One 25-pin parallel port is
 provided.  This is where the signal cable for a parallel printer,
 or other parallel device, connects to the server.


 
 Infrared Connector:  The server has one connector
 for an infrared (IR) transceiver module option.


 
 Serial Connectors:  Two 9-pin serial connectors,
 A (COM1) and B (COM2), are provided.
 The serial signal cable for a modem or other serial device usually
 connects here.
 If you are using a 25-pin signal cable, you need a 9-pin to 25-pin
 adapter cable.

---
Back to  

Please see the LEGAL  -  Trademark notice.
Feel free - send a 

  for any BUG on this page found - Thank you.