Input/Output Connectors (Server 330)
Input/Output Connectors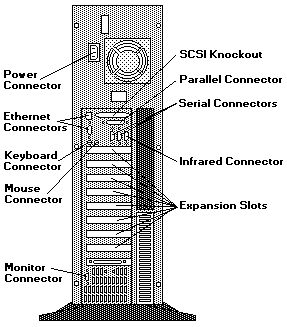 SCSI Knockout  Remove this knockout panel to
 install the SCSI external connector cable.


 
 Parallel Connector  A signal cable for a parallel device,
 such as a printer, connects here.


 
 Serial Connectors  Serial signal cables for modems or other
 serial devices connect here to the two 9-pin serial connectors, port A and
 port B.  Serial port B shares a port assignment with the infra-red port.
 See Devices and I/O Ports for port assignment information.


 
 Infrared Connector  An infrared (IR) transceiver module
 option can connect here.  See Devices and I/O Ports for port assignment
 information.
 Expansion Slots  When you install an adapter into an expansion
 slot, remove the external expansion slot cover for any external connectors
 on the adapter.


 
 Monitor Connector  The monitor signal cable connects here.


 
 Mouse Connector  The mouse cable connects here.  (Sometimes
 called the auxiliary-device port.)


 
 Keyboard Connector  The keyboard cable connects here.


 
 Ethernet Connectors  There are two Ethernet connectors:  A
 DB-15 and an RJ-45.  The DB-15 attachment unit interface (AUI) connector is
 for attachment of external 10BASE2, 10BASE5, or 10BASE-F medium attachment
 unit (MAU).  The RJ-45 connector is for attachment to the integrated
 10BASE-T (twisted-pair) transceiver.  If the server was shipped with an
 Ethernet interface cable, you must attach it to the RJ-45 connector on the
 server, and the cable on the 10BASE-T device.
 For more information about cables, see Ethernet Controller Messages
 Power Connector  The server power cable connects here.

---
Back to  

Please see the LEGAL  -  Trademark notice.
Feel free - send a 

  for any BUG on this page found - Thank you.