Battery Pack Test (2524)
Battery Pack Test
 Remove the battery pack.
 Measure the voltage at the battery contacts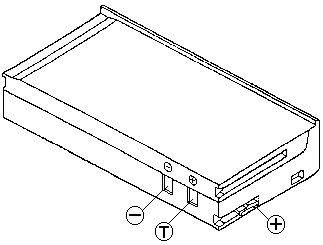 | Contacts | Voltage (Vdc) |
| --- | --- |
| + | +6.0 to +8.4 |
| - | Ground |
 If the voltage is not correct, charge the battery.
 If the voltage is not correct after being charged, replace the battery.
 If the voltage is correct, suspect a short circuit or failure  in the computer. Go to 'Short Circuit Test'


Use the following procedure to check if the thermal protection has tripped.

 Measure the resistance with an ohmmeter between the (T) and (-)  contacts.
 The resistance should not be open.  The thermal protection is detected when the temperature exeeds 70°C to 80°C (158°F to 176°F).  Wait until the temperature of the battery becomes low, then verify the  conduction of the terminals. If it is open, replace the battery.
---
Back to  

Please see the LEGAL  -  Trademark notice.
Feel free - send a 

  for any BUG on this page found - Thank you.