Rear View
Rear View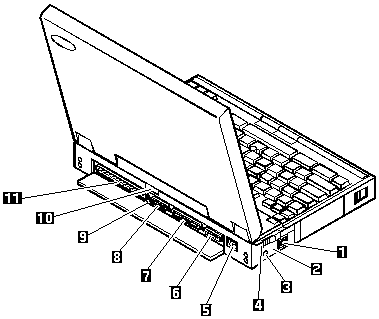 1 Telephony Jack
2 Microphone/Line-In Jack
3 Headphone Jack
4 Power Switch
5 Power Jack
6 Serial Connector
7 Parallel Connector
8 External-Display Connector
9 Reset Switch
10 Rear Infrared Port
11 System Expansion Connector

A multimedia portable expansion unit, port replicator, or port replicator with PCMCIA can be connected to this interface to support the following features.

 16-bit AT-bus interface
 Serial port
 Parallel port
 Keyboard and mouse
 HDD connection
 LED control signals
 Visual signals
 Audio signals
 FDD signals
 PCMCIA signals
 Power controls
 Power line
---
Back to  

Please see the LEGAL  -  Trademark notice.
Feel free - send a 

  for any BUG on this page found - Thank you.