2160 System Board Assembly
2160 System Board Assembly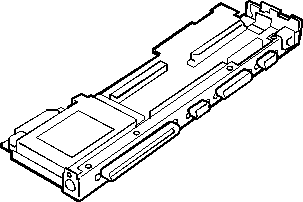 NOTE:
 Before removing and replacing the system board, make sure that the  PCMCIA  cards are removed and the eject levers are not sticking out.
 When replacing  the system board assembly, align the power-key slide  hub with the power-switch actuator by moving the power-key in  the direction of the arrow.  See the large circle in the figure.  Before tightening  any screws, check that the power-switch operates correctly.
 Do not pull the PCMCIA slot assembly while removing the system board.
---
Back to  

Please see the LEGAL  -  Trademark notice.
Feel free - send a 

  for any BUG on this page found - Thank you.