System Rear View - All Models
System Rear View - All Models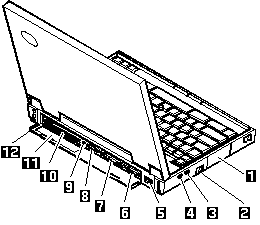 Diskette Drive Cover
 Power Switch
 Microphone/Line-In Jack
 Headphone Jack

 Not all models have jacks 3 and 4.

 Power Jack
 Serial Connector
 Parallel Connector
 External Display Connector
 Reset Pushbutton
 System Expansion Connector

Model 355x does not have this connector.


A multimedia portable expansion unit, port replicator, or port replicator with PCMCIA can be connected to this interface to support the following features.

 16-bit AT-bus interface
 Serial port
 Parallel port
 Keyboard and mouse
 HDD connection
 LED control signals
 Visual signals
 Audio signals
 FDD signals
 PCMCIA signals
 Power controls
 Power line


11 Connector Door
12 Rear Door
---
Back to  

Please see the LEGAL  -  Trademark notice.
Feel free - send a 

  for any BUG on this page found - Thank you.