1070 LCD Assembly

1070 LCD Assembly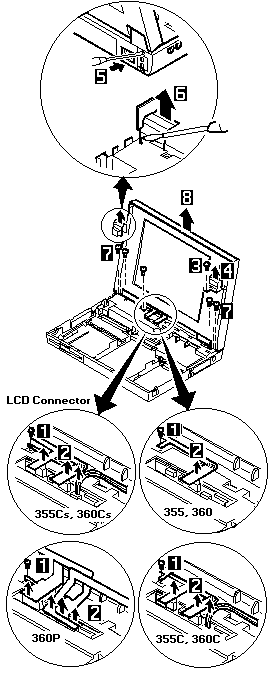 1 When replacing the LCD ground-terminal screw, do not pull or push the LCD cables.
2 When removing the LCD cables, pull the connector straight up. Incorrect handling can damage the connector.

NOTE: For the color model, make sure the indicator does not hook the most right LCD connector when replacing the status indicator.

3 Remove the screw.
4 Remove the right hinge cover.
5 When removing the left hinge cover, use a small screwdriver as shown to release the latch from the rear base cover. Pull the hinge cover slightly upward to keep it unlatched.
6 From the front side, remove the latch with a small screwdriver as shown to remove the cover. Be careful not to scratch the surface of the computer when you use a screwdriver to remove the latches.
7 Remove the four screws.

Use the following table for reference when replacing parts.

| Step | Location (Quantity) | Length |
| --- | --- | --- |
| 1 | LCD ground-terminal (1) | 4 mm |
| 3 | LCD hinge cover, right (1) | 4 mm |
| 7 | LCD hinge (4) | 4 mm |

NOTE: Make sure you use the correct screw. Screw Size Chart



  please READ - see >>




Caring for the LCD

 When cleaning of the LCD becomes necessary,  gently wipe the LCD with a dry, soft cloth.  Do not use alcohol or detergent to clean the LCD.
 To avoid damage to the LCD,  do not scratch or apply any force to its surface.
 Do not put anything on the surface of the LCD.
---
Back to  

Please see the LEGAL  -  Trademark notice.
Feel free - send a 

  for any BUG on this page found - Thank you.