Routing the Backlight Cable
Routing the Backlight Cable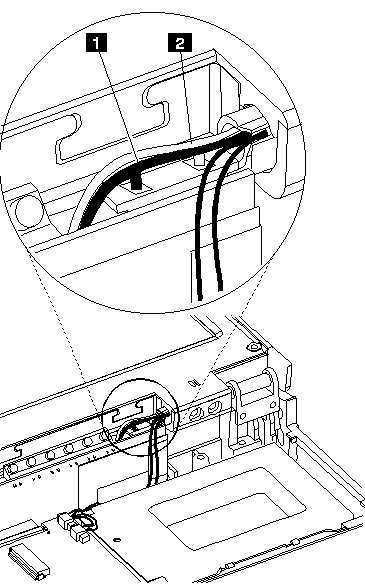 1 = Brown wire.
2 = Yellow wire.



  Incorrect routing of the backlight cable may cause it to break after repeated opening and closing of the computer lid. Routing the cable correctly is important to prevent this breakage.

To route the backlight cable, follow these steps:

 Plug the LCD backlight cable into the inverter card.  Do not twist the wires.
 Position the brown wire behind the connector so that after it exits  the connector housing, it goes down between the inverter card and back  wall of the base cover. (It must be outside of the inverter  insulator.)
 Loop the brown wire toward the LEDs and over the top of the  connector.

 
Backlight cable routing from the rear, shown without the  computer lid.

  1 = Brown wire.
  2 = Yellow wire.

 Route the yellow wire in the same manner as the brown wire.  Position the yellow wire beside the brown wire where it runs over  the connector on the side  toward the back of the computer. Do not allow the wires to cross.
 Be careful to keep the cable in the correct position as you  complete the assembly of the computer.
---
Back to  

Please see the LEGAL  -  Trademark notice.
Feel free - send a 

  for any BUG on this page found - Thank you.