Replacing the LCD Assembly
Replacing the LCD Assembly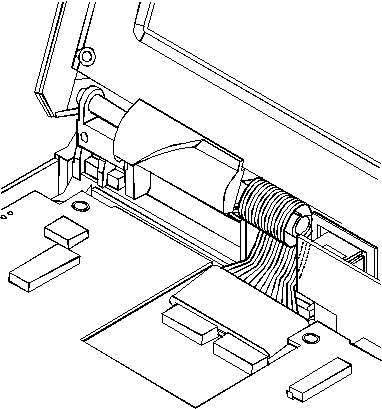 To reattach the LCD assembly, follow these steps:

 With the LCD cable flat,  carefully  wrap the end  of the LCD cable around the attached sleeve on the  cable, finishing with  the end  of the cable  coming from behind the sleeve.
 To prevent possible damage,  tape the end of the cable to the bezel  while you reattach the LCD assembly.
 Place the LCD assembly on the base in the closed position.  Make sure that the backlight and microphone cables are inside   the base unit.
 Replace the four hinge screws (BG).
 Open the computer lid all the way (180°)  and remove the tape from the  the LCD cable.
 Slide the ferrite core over the end of the  LCD cable, pushing the core onto the cable  just far enough  to expose the two sets of silver contacts on the cable.
 Connect the LCD cable to the connectors  on the bottom system board by inserting the flat  ends of the cable. Then, push in the small  sliding latch under each cable to secure the cable in the  connector.  Do not bend or fold the LCD cable. Press on the loop of cable around  the sleeve to insert the cable ends into the connectors.
 Pull the ferrite core forward on the cable until  the core touches the connectors and it can be pressed  down flat on top of the bottom system board.
---
Back to  

Please see the LEGAL  -  Trademark notice.
Feel free - send a 

  for any BUG on this page found - Thank you.