The image below shows the welding design table for the Tubing Design product. Tables for other applications will have different entries but function in the manner described below.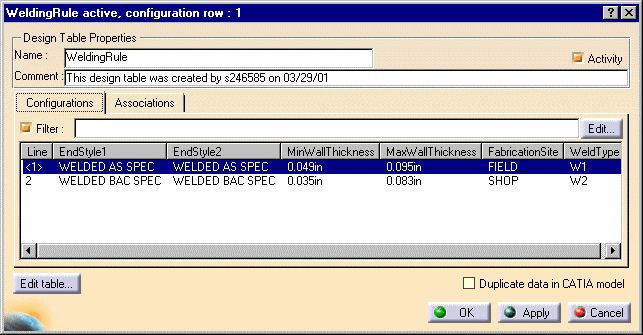 The first five columns in the table contain the input values: EndStyle1, EndStyle2, MinWallThickness, MaxWallThickness and FabricationSite. EndStyle1 is data from one part connector while EndStyle2 is data from the second part connector. Only one value is input for wall thickness - the columns MinWallThickness and MaxWallThickness constitute a range, inclusive of the values in the two columns. Wall thickness from each of the connectors must fall within this range. The value for the column FabricationSite is obtained from the Shop Fabrication design table.
If a user builds the Shop Fabrication table incorrectly, as a result of which the welding rule table gets both entries (shop and field), the first entry that it receives will be entered in the Fabrication Site field.
When all values match the input values, the table outputs the Weld Type. The value for weld type is used by the parts placement process to correctly select a weld.
You can enter any weld type keyword value relevant to your project in the WeldType column.