Engineering Knowledge Language
The Engineering Knowledge Language (EKL) is the language used to define the various kinds of Knowledge artifacts available in the different products of the Knowledgeware solution. For a quick access, click the graphic below to access the related documentation.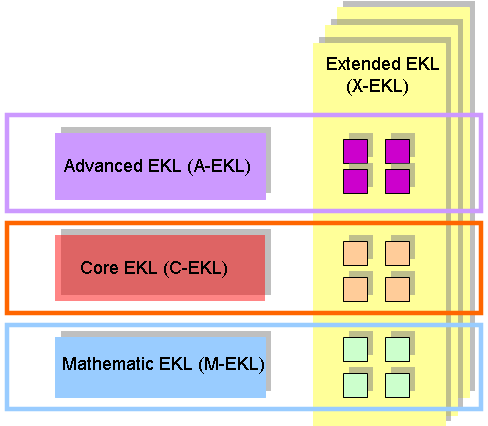 As shown in the preceding graphic, the Engineering Knowledge Language is declined in 4 different flavors, from the very simple Mathematical language (M-EKL) to the most complete advanced language (A-EKL).
Mathematical Engineering Language (M-EKL)
This language groups the language operators and the numerical functions (maths, measures, ...) necessary to express the sets of equations used to valuate parameters in Knowledge Advisor.

Core Engineering Language (C-EKL)
C-EKL adds the following language elements:
Keywords for control structures, like the "if... then... else" conditional statement in rules.
Specific functions, like the ones dedicated to messages and prompts for user inputs, geometry construction or strings and lists manipulation.
Additional operators, like the "=>" operator, which corresponds to a kind of "imply" keyword for checks.
C-EKL is used in the following Knowledge artifacts that are related to the update process through their parameters:
Formulas
Design tables
Rules and checks provided in the Knowledge Advisor product.

Advanced Engineering Language (A-EKL)
This language inherits most of the operators, keywords and functions of C-EKL. V5 applications aim at creating design objects enriched by a knowledge type. A-EKL is the level of language to manipulate them as knowledge objects through tightly integrated knowledge artifacts:
Actions and reactions in Knowledge Advisor
Expert Rules in Knowledge Expert
Behaviors in BKT
Patterns in PKT
Constraint satisfaction feature in PEO.
A_EKL also provides a full set of functionalities to manipulate V5 features as Knowledge Objects:
Knowledge Objects: basic attributes and methods
Search capabilities
Value pointers manipulation
Applications-specific services (constructors).

Extensible Engineering Language (X-EKL)
This language contains the applicative packages available in EKL and is also the way to add functions to the EKL language by 2 means:
CAA development (users development).
User functions. BKT lets you create interactively new functions that may be used within A-EKL.

Mathematical Engineering Language (M-EKL)
Core Engineering Language (C-EKL)
Advanced Engineering Language (A-EKL)
Extended Engineering Language (X-EKL)