The Minimal Mesh dialog box appears.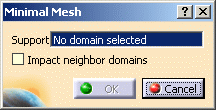 Support: lets you select the domain you want to re-mesh using the minimal mesh method.
Impact neighbor domains: lets you define whether you wish to apply the new mesh method to the neighboring domains. If the option is deactivated, the nodes on domain edges will not be modified.