Click the Place Equipment button

. The Resource Placement dialog box displays.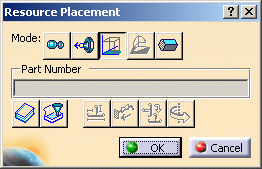 Select the mode by clicking one of the buttons.

Place on Object to place on another object, such as an item reservation or equipment. Connectors do not display when you select this mode.

Place on Connector to place a part on a connector. You would use this, for instance, when placing a nozzle on a part connector. Connectors can be seen when you select this mode.

Place on Active Axis Plane. This will place the part on the same plane as the axis that is active. You could use this with a local axis, for instance.

Place on Compass Plane. This mode allows you to place a part on the compass plane. It becomes active when you move the compass and place it on a surface.

Place on Surface lets you place a part on a surface, such as a ship's deck. You will first need to position the white reference square that appears when you click this button.

Open Catalog Browser lets you open the browser to select a part.

The Filter Definition button lets you override values and specification, explained in Step 2 below.
The last four buttons, Edit Part Parameters, Move, Flip & Adjust, let you perform tasks already explained in this manual. They become active when they can be used.