Starting with the R17 Release, the Define conditions command can also be used for processes, that have a resource as a parent.
See also: Adding an Activity as a Child to a resource.&
The enables you to define the start condition, end condition and 3D context for these processes. In order to define the start condition, end condition or 3D context, you must select the resource with behavior or a process. The following procedure specifies how the defining takes place. According to the specified definition, either the start condition, end condition, or 3D context will be displayed as the child of the resource in the tree (picture below) of the selected resource (Line MA in the example).
2.
Select an activity or a resource with behavior for which a Start Condition and 3D Context is to be created: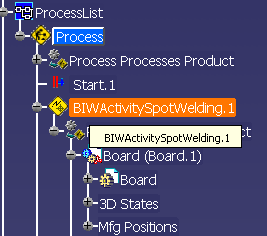 After the activity is selected, the Create Begin State dialog box is displayed: The Item and Resource tabbed windows list the Items and Resources that have Named States applied to them.