The object you select appears in the Object for Clash Search field. The Create Penetration dialog box displays a list of clashes associated with the selected object.
Select one or more clashes from the list and click the Create Penetration button at the bottom of the dialog box.
The Specify Penetration Data dialog box displays.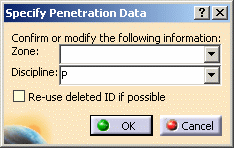 Zone and Discipline information, with data computed from the objects related to the selected clash, appear in the fields.
You can accept the supplied information for Zone and Discipline or enter other information, or select from the drop down list.
Click OK and a message displays indicating you have created the penetration.
Save your document to save the data in ENOVIA.