Specify detailing to load.

If the selected process has V5 Simulation Detailing defined (as shown for the Workplan process above), a dialog is presented which allows the user to select the detailing specification to be loaded, or not to load detailing at all: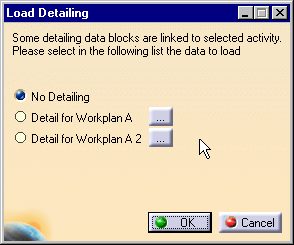 The No Detailing selection allows for the process to be opened with no detailing information.
If no detailing exists for the filters that are applied when the current project was selected (via the Open Project dialog), a complete list of of existing detailing data attached to the process is displayed, allowing the user to select one of the existing detailing specifications to use as a starting point.