In R14, the DPM infrastructure used to load data from the Manufacturing Hub was modified to provide improved load performance, particularly when loading data over a WAN. This new infrastructure requires the installation of Java JRE 1.5.0_05 on both the client and the server.
In addition, the environment variable JAVA_HOME must be defined that indicates the JRE installation directory (for example, C:\apps\jre1.5.0_05) on the client machine: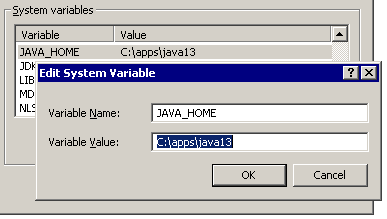 By default, the heap size for the Java Virtual Machine (JVM) is set at 64MB. To accommodate larger projects and improve performance, it is recommended that the heap size is set to a minimum of 128MB or higher. (Note that the limit is 2GB on Windows operating systems.)
To accomplish this, set the environment variable CATJWS_JAVA_OPTION to "-Xmx128M":
CATJWS_JAVA_OPTION=-Xmx128M
If the maximum heap size is reached when loading a project from the Manufacturing Hub, the load will fail and the following error message is displayed:
CATPPRReplica::GetReplicaFromBinary(const CATBinary&, CATBoolean, CATPPRReplica&) java.lang.OutOfMemoryError <<no stack trace available>>
If this occurs, please close the V5 session and increase the JVM maximum heap size as explained above, then restart DPM.