More Operating Mode information is available in the Basic Task Import Model.
Model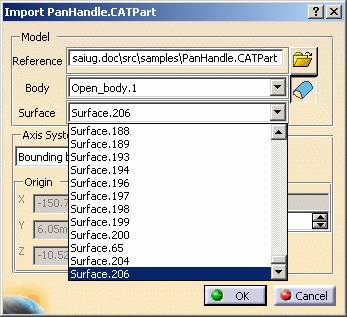 Path and name of the CATPart you are going to use.
Click

to browse your directories to the location of the CATPart.
Element in the reference file that you wish to import. Use the combo list to select it.
If the CATPart selected contains a PartBody, i.e. a solid, this PartBody is proposed by default.
If there is no valid PartBody available, the first non-empty Geometrical set is proposed.
Reference
For a quick overview of the model, you can choose to work on a set of loose faces instead of closed solids.
If you wish to import a set of faces, first click

(for importing closed solids) so that the icon for importing a set of faces is displayed,

, then select your file.
Surface that you wish to use for the computation and is only displayed when you have a choice of surfaces to use in the body.
The surface proposed by default is the last surface in the Geometrical set, because it should be the most complete surface, i.e. the most susceptible to be closed.