Using this Behavior Interface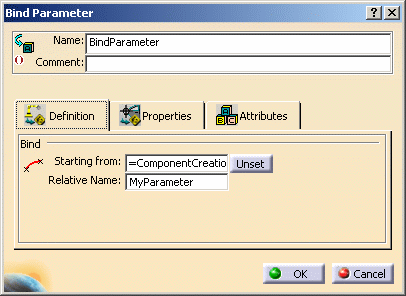 | | |
| --- | --- |
| Name: | Name attributed to the behavior. |
| Comment: | Comment attributed to the behavior. |
Bind
Reference:
In the Behaviors tree, click:

An object or a behavior variable that will contain a V5 item at run time.

The search will start from the object indicated in this field. If nothing is indicated, the search will start from this behavior.

Relative Name:
Enter the name of the parameter that you are looking for and its access path (using the ../.. syntax).

Note: To know the parameter naming convention, use the Definition window of this object: It lists the possible names.