Place automatic parts
When Place automatic parts is selected the automatic parts rule is invoked. You can, for instance, place an object such as a valve and the flanges and gaskets will be placed automatically.
Break run at every placed part
If this option is checked, the run will break on both sides of a part when you place the part. The runs and part will be connected automatically on both sides. The first image below is with the option on, second with it off.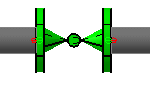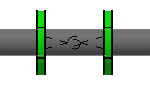 Automatically add new part to spool of connected parts
Checking this allows a part to become member of a spool whenever it is placed in the spool. If this option is not checked then a part may not be considered member of a spool even if you place it.
Ignore compatibility with neighbors for tube, pipe, duct
If you uncheck this option then, when you place a tube, pipe or duct on a run, compatibility with adjacent parts will be checked. When the option is checked then no compatibility checking is done. Also see Ignore Compatibility Check with Neighbors in the Placing Parts task. To learn more about compatibility read the Compatibility Rule task in the Design Rules section.
Connect part to tube, pipe, duct even if not compatible
Checking this option will result in a connection being established between adjacent parts and a pipe, tube or duct that is placed on a run even if they are not compatible. If it is unchecked then a connection will not be created if the parts and pipe, tube or duct are incompatible.
Check for sufficient space during parts placement on runs
If checked, an error message will display when you try to place a part on a run that does not have sufficient space. If unchecked, the part will be placed, even if there is not sufficient space, or even if the part overlaps another part. Note that checking this option results in a lengthy process in large documents. Which is why users have the option of verifying space by other means (e.g. visually) and not checking this option as a time saving measure.
Show a warning if the connector is already connected to a part
Checking this option displays a warning if you try to place a part on a connector that is already connected to another object.