| | | |
| --- | --- | --- |
| 669.197 bytes | Service Hints & Tips | Document ID: LWIK-3UPHZS |
IBM WorkPad - Installing Lotus Organizer 97 GS (trial version)
Applicable to: World-Wide
Installing WorkPad Desktop Software
1. Place the Lotus Organizer 97 GS CD-ROM installation CD in to the CD-ROM drive.
2. Autorun should start the installation program. If this does not work, move the cursor to Start on the Start bar, and select Run. Type in the drive letter of your CD-ROM followed by a colon and install, and then press Enter (i.e., e:install where e is your drive letter).
3. You will then presented with the Welcome to the Lotus Organizer Install screen. Type in your name and company name. Select Next.
4. You will then be asked to confirm your input. If all is correct, select Yes. If not, select No, and you will go back to the previous screen.
5. You will next be asked to specify the location for the main folder. To use the defaults, select Next.
6. You will now have three options; (1) Default Features, (2) Minimum Features, and (3) Customize Features. Select the radio button for Customize Features, and select Next.
7. You are now in the Customize section. You would select those features that you would like to install. Select the features you wish to install under both the Organizer tab as well as the Report Layouts and Paper Types tab. Select Next.
8. You will next be given the screen to select the default directories for the Work folder and Backup folder. To accept the defaults, select OK.
9. Your next screen will allow you to select either PIM Only or PIM With Group Scheduling. PIM with Group Scheduling will be used only if you are going to Sync with Lotus Notes. You need to be using Lotus Notes version 4.5 or higher. If the you select PIM With Group Scheduling and do not have Lotus Notes installed, you will see the following screen. Select PIM Only and then select Next.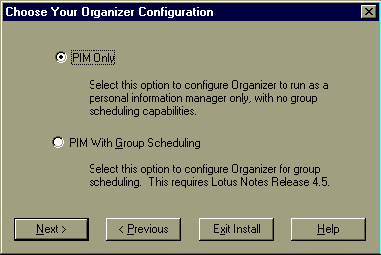 10. You will be prompted to select the Program Folder that you want the Program Icons installed into. To accept the default, select Next.
11. You are now prompted to begin copying files to the hard disk now. Select Yes.
12. The installation is now complete. You will see the following screen. Select Done.
13. Select 3Com PalmPilot. Select Next.
14. You will now run the Lotus Organizer and PalmPilot installation/setup. After reading the Welcome screen, continue on. Select Next.
15. You will see the following screen. Proceed by selecting Yes.


16. If you receive the following notice, select OK, and it will shutdown HotSync Manager to continue. Select OK.

17. You will now be given a screen stating that EasySync for Organizer Setup is complete. Select OK.
18. You will be given the opportunity to read the README file. If you wish to view the file now click Yes, otherwise click No.
19. You are not ready yet to be able to HotSync with Lotus Organizer 97 GS.
20. Shutdown all applications, and restart your system. Close all applications, move the cursor to the Start on the Start bar, select Shut Down, and select Restart the Computer. Select Yes.
21. After your system completes the reboot process, move the cursor to Start on the Start bar, select Programs, select Lotus SmartSuite, and select Lotus Organizer 97 GS. This will start Lotus Organizer 97 GS.
22. You will next see the Welcome Try and Buy screen. If you agree to the conditions stated, select Accept.
23. You are now in Lotus Organizer 97 GS. Next, move the cursor to File, click on File, move the cursor to Save As. Select Save As.
24. You now need to save this blank Organizer file. In the file name area, type in a name for your Organizer file. It is recommended that you limit the name to eight characters (for example, ROGCAM). Type in your file name now. Select Save.
25. If you want your file to open automatically when you start Lotus Organizer 97 GS, follow the next steps.
26. Select File. Select User Setup, then select Organizer Preferences.
27. Select the radio button for Automatically open under Default File. Type in the path and file name for your Organizer file. You can also use the Browse button to make this easier. Select OK.
28. Close down the Lotus Organizer 97 GS application.
29. You are now ready to HotSync with your WorkPad. With your WorkPad in the cradle, press the HotSync button on the cradle. You will see the HotSync process start. You will then see the Customize User/File Association box appear. Type in the path and file name for your Organizer file. You can also use the Browse button to make this easier. Select OK.
30. The HotSync process will continue. You will then receive a screen notice on your WorkPad that the HotSync process is now complete. Remember, each time you enter Lotus Organizer 97 GS, you will see the Welcome Try and Buy screen. You can now open Lotus Organizer 97 GS, and your files from your WorkPad will now be present.
31. If at anytime you run into problems installing Lotus Organizer 97 GS with or without Group Scheduling you will need to call Lotus Organizer 97 GS Technical Support. For Organizer (PIM only) the number is 978-988-2500 and for (PIM With Group Scheduling) Notes (GS) the number is 978-988-2750

Search Keywords

Hint Category

Installation/Removal Procedures, Windows 95

Date Created

21-05-98

Last Updated

26-01-99

Revision Date

26-01-2000

Brand

IBM ThinkPad

Product Family

ThinkPad 310, ThinkPad 315, ThinkPad 365X/XD, ThinkPad 365C/CS, ThinkPad 365CD/CSD, ThinkPad 365E/ED, ThinkPad 380, ThinkPad 380D, ThinkPad 380E, ThinkPad 380ED, ThinkPad 380XD, ThinkPad 385D, ThinkPad 385E, ThinkPad 385ED, ThinkPad 385XD, ThinkPad 560, ThinkPad 560E, ThinkPad 560X, ThinkPad 600, ThinkPad 701, ThinkPad 755C/CS, ThinkPad 755CE/CSE, ThinkPad 755CX, ThinkPad 755CV, ThinkPad 755CD, ThinkPad 755CDV, ThinkPad 760C, ThinkPad 760E, ThinkPad 760CD, ThinkPad 760L/LD, ThinkPad 760ED, ThinkPad 760XD, ThinkPad 760EL/ELD, ThinkPad 760XL, ThinkPad 765L, ThinkPad 765D, ThinkPad 770, ThinkPad 770E/ED, ThinkPad 770X, ThinkPad 770Z, WorkPad

Machine Type

2600, 2625, 2635, 2640, 2645, 2646, 2630, 9545, 9546, 9547, 9548, 9549, 9544, 8602

Model

Various

TypeModel

Retain Tip (if applicable)

Reverse Doclinks
and Admin Purposes