8525-286 Planar

25-286ad.exe PS/2 Model 25 286 Refdisk
190-082 IBM PS/2 MODEL 25 286 (8525-006, G06, 036, G36)

---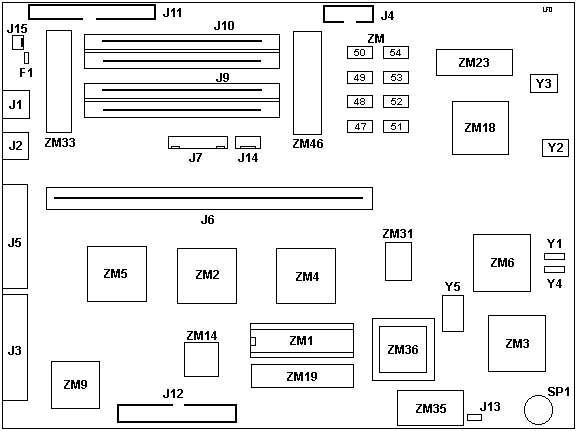 F1 KB/Mouse fuse
J1 Pointing-device connector
J2 Keyboard connector
J3 Parallel port
J4 Display connector
J5 Serial port
J6 Bus-adapter connector
J7 Power-supply connector
J9 Memory packs
J10 Optional memory packs
J11 Hard-disk drive connector
J12 Diskette-drive connector
J13 Password-override connector
J14 Power-supply connector
J15 Earphone?
SP1 Speaker
ZM1 Math coprocessor connector
ZM2 VLSI VL82C100
ZM3 VLSI VL82C102A
ZM4 VL82C103A
ZM5 VLSI VL82C104
ZM6 VLSI VL82C101B
ZM9 VLSI VL16C451
ZM14 27F4094 DISKGA
ZM18 15F6864 VGA
ZM19 NEC D765BC
ZM23 IMSG171P-35
ZM33 8042
ZM35 Clock module connector
ZM36 80286-10
ZM46 EPROM
ZM47-54 64Kx4
Y1 14.318 MHz osc
Y2 25.175 MHz osc
Y3 20.322 MHz osc
Y4 20 MHz osc
Y5 48.00000 MHz osc
1
30 pin SIMM 100-150ns w. parity
Min/Max on system board: 512/4MB (16MB using adapter cards)
William R. Walsh sent me the original scan.

---
8525-286 Riser

---
8525-286 Earphone Riser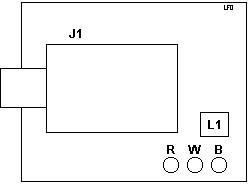 L1 TDK ZJY-2P
Three conductors, Red, White, Black.

---

LIMITATIONS: The ability to use a non-IBM memory expansion card in
the Model 25 286 is dependent on the flexibility of the card in establishing its starting memory address. The amount of planar memory (standard plus kits) and the corresponding starting memory address is as follows:

PLANAR EXPANSION CARD
MEMORY STARTING ADDRESS
512KB 512KB
1MB 1MB +384KB
2MB 2MB +384KB
4MB 4MB +384KB
Memory expansion cards must support the listed starting address to properly operate in a system with a given amount of planar memory.