Removing the 3.5-Inch Hard Disk Drive from the Adapter Tray - (Aptiva 2172, 2174 - SL-A)

Removing the 3.5-Inch Hard Disk Drive from the Adapter Tray

 To remove the hard disk drive from the adapter tray, remove the four shoulder screws on the  underside of the tray.
 Four cushion rings are used to minimize the acoustic interference.
 To remove the cushion rings, slide and lift.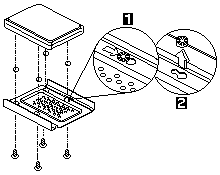 -ATTENTION- When installing the hard disk drive, the cushion rings and shoulder screws must be used to secure the hard disk to the tray.
---
Please see the LEGAL  -  Trademark notice.
Feel free - send a 

  for any BUG on this page found - Thank you.