AMD K6-2XT Processor - (Aptiva 2170 - SL-A)

AMD K6-2XT Processor (for 2170)

NOTE: Determine the type of processor you are installing and make sure the jumpers are set correctly.
Run the Setup Utility after correctly installing a processor.



  -CAUTION- Processors are sensitive to static discharge.

 Remove adapter cards if applicable.
 Detach the heat sink cable from the fan connector.
 Remove the fan sink by pressing the release tab (rectangular end) and lifting it up from the Processor.
 Pull up the ZIF socket release lever.
 Lift the processor out of the socket.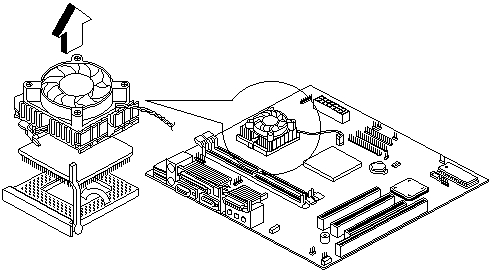 NOTE: Installing the processor

 Place the ZIF socket release lever to the release (up) position.
 Insert the new processor, matching the notched corner of the processor with the pin 1  indicator on the socket.

 Push down the lever to lock the processor to the socket.
 Place the processor heat sink fan over the processor.
 Insert one side of fan brace onto the ZIF socket.
 Secure by latching the other side to the ZIF socket.
 Reconnect the processor fan sink cable to the connector FN1 on the system board.
---
Please see the LEGAL  -  Trademark notice.
Feel free - send a 

  for any BUG on this page found - Thank you.